Laura Dekker, the youngest sailor to circumnavigate the globe single-handed. At 14 she set sail on Guppy, the 11 -metre, two-masted ketch she calls her "dear friend", from Gibraltar in August 2010. Just 43,500 kilometres stood between Dekker and her goal.
Her Dutch parents were living on a yacht in a port in New Zealand when Dekker was born and she was six when she first sailed solo. At eight, she decided her dream was to sail around the world, and, aged just 13, Dekker sailed solo from the Netherlands to England and back – a trip her father had hoped w
ould "cure her wanderlust", according to her website. Her mother has said "she sails like a devil", while her grandfather says "she's a stoic. She will keep a cool head in the most extreme of situations."
A child of two divorced parents, Laura Dekker has a lot of experience around boats, as she has been raised on yachts most of her life. Her father (who is the custodial parent) was in support of his daughter taking the trip from the start, "encouraging" her toward the goal of becoming the youngest around the world alone. Her mother, however, was apprehensive, thinking Laura too young for the endeavor.
The Dutch courts agreed, and for over a year the legal battle dragged on, as experts were brought before the court to attest to the physical and emotional toll such a journey would take on this little girl. Fearing that Laura would be allowed to sail off on her own unprepared (she had been caught once before illegally piloting her boat alone), Laura's welfare was placed in the temporary care of social services. The courts ruled that: "The parents are going to have to negotiate all important decisions regarding Laura with the child protection services." This decision meant Laura's parents were stripped of their ability to allow Laura to cast off.
Laura kept insisting that she should be allowed to sail around the world alone, saying she was ready, and she wanted to do the trip soon. "My parents always knew it was a dream of mine to do this," the then 13-year-old Laura Dekker told the court, "and I want to do it while I'm still young, so I can break the record."
Dekker and her dad and eventually her mother, German-born Babs Muller, might not have thought it was crazy, but the Dutch authorities did. When they heard of her plans in 2009, they tried to stop her.Dutch social workers intervened and the child welfare authorities brought the case to court where a Dutch judge ruled that she was too young to sail alone. Dekker then ran away, leaving a note for her father, with whom she lived, and took a plane to the Caribbean island of Saint Martin.
She was picked up by police once there and brought home. Dekker eventually won a 10-month court battle after promising judges she would sail a bigger boat with advanced navigation equipment, take courses in first aid and coping with sleep deprivation, and enrol in a special correspondence school. Her mother, Babs Mueller, miraculously seemed to now back the idea of Laura sailing around the world solo, withdrawing all legal opposition. With this support, a larger (and more prepared) sailboat, and a bit more preparation by Laura (including some first-aid lessons), the courts finally agreed to release the young girl from the guardianship of Dutch child protection agencies that had blocked her attempts to leave when she was still 13.
In July 2010, a court lifted the state supervision and said the trip could go ahead (in the meantime, Dekker had done training in first aid and sleep management, and was a more experienced solo sailor). "Over a period of 11 months I was constantly afraid that Youth Care would lock me up," she wrote on her blog. "It was all a frightening and traumatic experience. So often these terrible memories come to me. I can't ignore them.
The courts allowed her parents to once again make the decisions regarding the welfare of their child, and to decide themselves whether she was adequately skilled as well as physically and emotionally mature enough for sailing alone around the globe.
Laura Dekker and her father Dick Dekker wasted no time, and quickly got her 38 foot yacht named Guppy ready for sea. The father and daughter then took a sea trial from the Netherlands to Portugal. Laura Dekker said the boat had some glitches during that passage, including problems with a water pump, and trouble with the yacht's GPS and radar. Laura's team had indicated that she would be departing on her trip from Portugal, but this appears to have only been a trick to avoid the press, any controversy, and most importantly, the Portuguese police, whom her team says "were making problems because of her age."
Portuguese law does not allow a minor to sail alone. In order to avoid the chance of anyone stopping her from starting her voyage, the teenager snuck out (as teenagers often do) and secretly sailed from the southern Portuguese port of Portimao on Wednesday, moving her boat to Gibraltar for the solo departure. Although the wind was light, she took off from Gibraltar on Saturday, sailing the first leg of her journey, which should see her in the Canary Islands or Madeira (depending on conditions) in about eight days.
Now, after sailing around the world, with difficult port approaches, storms, dangerous reefs, and the full responsibility of keeping myself and [her boat] Guppy safe, I feel that the nightmares the Dutch government organisations put me through, were totally unfair." In their defence, Joost Lanshage from the Netherlands Bureau of Youth Care said: "If Laura had drowned we would be accused of not doing enough to protect her. Thank God she's OK and I think that's partly due to the safety measures we enforced as part of the condition for allowing her to go."
Laura holds no official record. Instead, the teen only earned bragging rights, as all respected records-keeping organizations have agreed to stop recognizing the "youngest" world sailing records for fear of encouraging children from attempting the dangerous feat. Such a danger was made evident only a few months ago, when 16 year old sailor Abby Sunderland had to be rescued after being demasted during her own around the world attempt.
Laura Dekker did not plan on sailing around the world non-stop. Instead, she circled the globe in a series of jumps, most lasting less than a few weeks. Laura's course made a cruiser's circle of the world, avoiding the Southern Oceans completely. To accomplish this, she crossed the Atlantic to enter the Pacific via the Panama Canal, and then sailed the South Pacific to Australia. From there, she skirted the Indian Ocean, sailing back toward Europe through the Suez Canal. This route took her through the Gulf of Aden, commonly referred to as 'Pirate Alley.'
She took on six-metre-high waves and extreme weather – on one occasion, heading in to the Cape of Good Hope, her storm jib (a sail used in storms) got jammed and she finally managed to take it down in the early hours of the morning. Another of her sails ripped completely during the voyage. She slept on a damp bed and lived on rice and pasta, with cookies and pancakes as an occasional treat. She dodged near-collisions with cargo ships, and worried about pirates. Not in the least squeamish, she had to rescue live flying fish that had flung themselves into her cabin, and scrub the stinking remains of decomposing squid from the deck. She survived weeks at sea with no company – except for the ants and cockroaches that had stowed away in her cabin. On top of all that, she had to do schoolwork.
Dekker has just pipped the previous youngest, Jessica Watson, an Australian who sailed around the world, arriving in Sydney In May 2010, three days before her 17th birthday. In June 2010, Abby Sunderland, a 16-year-old sailor from the US, was rescued in the Indian Ocean after breaking her mast in an attempt to do the same. It was back in 2009 that a boy – 17-year-old Michael Perham, from England – held the record. However, Guinness World Records will not verify any of these claims, saying they do not want to encourage minors to take on dangerous challenges.
Reading the blog Dekker kept during her voyage, it is clear that she values solitude and a proximity to nature. She writes about meeting penguins, seals, birds, whales and dolphins and has a deep appreciation of the beauty the world has to offer. She sailed in the company of giant jumping stingrays, whales, sharks and dolphins. "Yesterday the clouds gathered in an arch that reached down to the sea far on the horizon, and when the sun came down floating in the water it turned the arch into a barrel vault of lights," she wrote on Christmas Eve. "Sometimes I try [to] adjust the sails to make us go faster, but mostly I simply enjoy the endless silky blue ocean and the quiet peace that it brings," she wrote earlier in December. You can feel the apprehension of the media attention she knew she would eventually attract. "At sea, I feel comfortable and I come to rest." Dekker's journey took her across the Atlantic, Pacific and Indian Oceans via the Panama Canal, through the treacherous Torres Strait and around the roaring forties at the tip of South Africa before arriving back at Saint Martin on January 21, 2012. At each port, customs needed convincing that she was travelling solo. To her astonishment and relief, she had no problems with officials trying to thwart her passage. Dekker stopped en route in places like the Galapagos Islands, Tahiti, Darwin and Cape Town. The journey, she says, was a whole lot more than just sailing.
"The trip was as much about seeing the world as it was about sailing. It was a perfect mixture of discovering new cultures, meeting all these people and then being able to go to sea, watch the waves and think about all these experiences I'd had." She learned to dive in the Canary Islands, surf off the Galapagos Islands and canoe in the mangroves of Bonaire.
The longest this self-confessed loner spent at sea was 48 days during her voyage across the Indian Ocean between Darwin and Durban. She'd often lose track of time. When you're busy sailing, battling the elements, watching the waves, the sunsets and sealife, it hardly matters what day it is. Dekker says her love of being at sea grew throughout the voyage. "You're out there using nature to get where you want to go . . . You're nothing out there. The wind and the waves are so strong they can do anything they want. The fact that you're there trying to harness these great powers to go somewhere was such an awesome thing. Whatever came up was a challenge and not scary."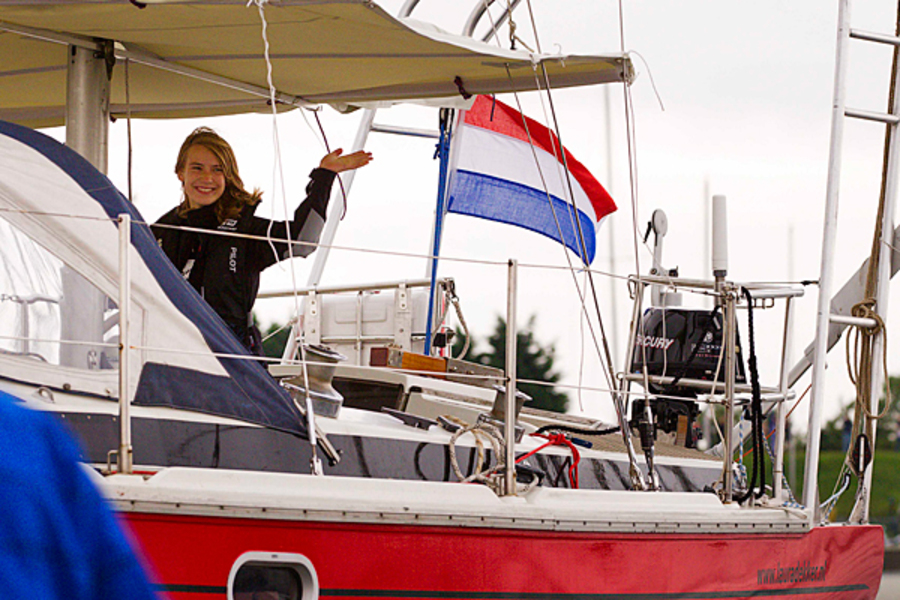 The trickiest part of her voyage was the Indian Ocean and the seas around South Africa. There were hairy moments and moments she feared death. A whale almost upturned Guppy on one occasion. Once she battled 65-knot winds and Guppy was surfing down 8-metre-high waves. But the greatest danger is to panic, she says. "If you panic then you lose track of what you have to do to keep the boat going, so I really tried to avoid those feelings." Despite the challenges, it was during that 48-day crossing that she was happiest, she says. "I was very much at peace. I felt a connection to everything around me. I had time to be at one with the sea."
Dekker also relished "arriving" – pulling into port at various destinations and embracing the company of locals and fellow sailors."I did love arriving at places. That was the best feeling, to see land again, see people, eat fresh things, but mainly to have the feeling that you got here on your own. To have done so much to get there makes it all the more special."
There is no love lost between Dekker and the Netherlands. Apart from a core group, people didn't show support for her till she finished her trip, she says. She has no time, either, for the authorities. She believes they hacked into her computer and those of her family. She also believed they were capable of sabotaging her trip. Dekker was so disenchanted that during her journey, after meeting a bunch of Kiwi sailors, she decided to ditch her Dutch flag for the New Zealand one. She knew she was home when she cruised back into Whangarei in the middle of a storm in September, 2012.
She still lives on Guppy in Whangarei's Quayside Town Basin. She does public speaking and has engagements all over the world. Her message during these presentations is clear: kids are capable of so much more than adults think.
"They don't want their children to grow up and I can understand that, but I hope that more parents will stimulate their kids and their dreams. The most important thing is to get to know your kids. My dad knows me so well because he was with me every day, teaching me.
"And I want to tell kids that they shouldn't be afraid of trying. I saw a quote the other day that said: 'Doubt kills more dreams than failure ever will', and I think that's so true. If you don't try you're going to wonder all your life, what if?"
More sea adventures are on the cards, though.
LAURA'S FIVE ESSENTIALS FOR HER SOLO VOYAGE:
* Tools, GPS, maps, sails, wind vane – all the practical and necessary things
* My guitar
* My books
* My camera
* Pictures from family and friends
* Music on my iPod