It's summer in the city, and alfresco outdoor dining is the way to go. We share our top 10 suggestions. Salute!
---
Big Easy Restaurant
The Big Easy has a bistro-style menu at lunch time and switches to fine-dining in the evenings. They have an amazing selection of over 170 wines – something for everyone.
95 Dorp Street | Stellenbosch | +27 (0)21 887 3462
---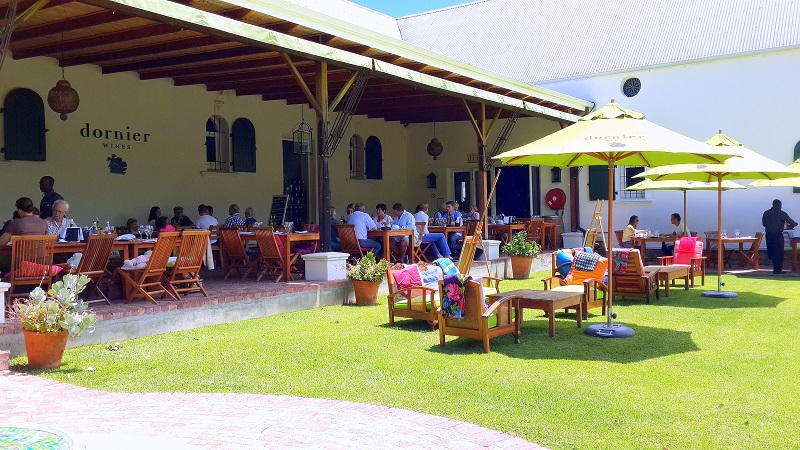 Dornier Bodega Restaurant
Tucked away on the Dornier Wine Farm, the Bodega Restaurant has one of the most beautiful settings in the Blaauwklippen Valley outside Stellenbosch in the Cape Winelands.
Blaauwklippen Road | Stellenbosch | +27 (0)21 880 0557
---
Vergenoegt Wine Estate
Enjoy food platters under the oak trees while watching the duck parade of just over 1000 Indian running ducks which are part of their pest management system. They also offer wine, olive oil, tea and coffee blending experiences.
Baden Powell Drive | Faure | +27 (0) 63 629 3629
---
Sotano
This Mediterranean style restaurant on Beach Road has amazing sea views. Choose between tapas or a meal prepared with seasonal ingredients and complement either with wine from their impressive list.
121 Beach Road | Mouille Point | +27 (0)21 433 1757
---
Roundhouse
The former hunting lodge of Lord Charles Somerset has been sophisticatedly restored and nestled amongst 300-year-old pomegranate trees and landscaped gardens you can enjoy contemporary French cuisine, boutique wines and classic cocktails.
The Glen | Camps Bay | Cape Town | +27 (0)21 438 4347
---
The Bungalow
St Tropez meets Ibiza, Monte Carlo, Sophia Loren on a surfboard. The Bungalow is the champagne soaked beach hideaway that is Cape Town's most sought after venue. The Bungalow Restaurant exudes seafront sensuality with its sumptuous and succulent seafood…dive in for a dining experience second to none.
Glen Country Club | 3 Victoria Road | Clifton | Cape Town | +27 (0) 21 438 2018
---
Caveau
Both Caveau at the Mill in Newlands and on Heritage Square in town offer outside dining. Each offer the great food and wine that this restaurant and bar has become known for.
Heritage Square | 92 Bree Street | Cape Town | +27 (0)21 422 1367
16 Boundary Road | Newlands | Cape Town | +27 (0)21 685 5140
---
Bread & Wine Vineyard Restaurant
While away memorable Franschhoek summer days in a courtyard shaded by trellised vines and umbrellas and surrounded by the lemon orchards and vineyards of Môreson Wine Farm. Tuck into rustic food including imaginative salads, pizza breads and smoked meat and fish. Visit the farm grocer on your way out for smoked red wine vinegar, filled foccaccia or haloumi cheese.
Happy Valley Road | La Motte | Franschhoek | +27 (0)21 876 3692
---
Holden Manz
Eat on the balcony overlooking the vineyards or go one step further and eat in the vineyard at a table set up amongst the vines. Enjoy Italian food inspired by home-grown ingredients with the estate's wines.
3 Green Valley Road | Franschhoek | +27 (0)21 876 2738
---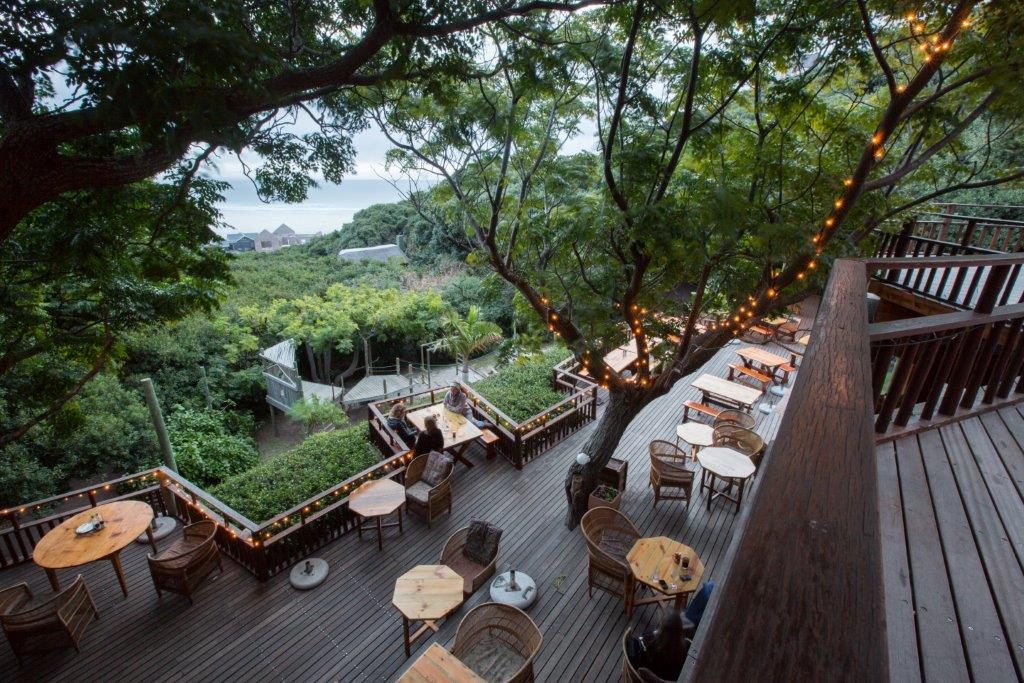 Thorfynn's Restaurant at Monkey Valley Resort
Thorfynn's restaurant elegant yet natural cuisine using the freshest local free range produce, a great selection of vegetarian dishes, excellent wood baked pizzas for which we are famous, sushi, home baked wholewheat bread, deserts and cakes, really good coffee, a good wine list, succulent seafood dishes especially their seafood Potjie, and the tastiest of South African traditional dishes. Best of all is the view from the deck of Long Beach in Noordhoek and there's no better place to be to watch the sunset and wait for the fairy lights among the milkwoods to come on.
1 Mountain Rd | Chapman's Peak | Cape Town | +27 (0)21 789 8000
---
Why waste your holiday indoors when you can take the opportunity to enjoy some amazing food, wine and scenery at one of our favourite open-air restaurants?