Women hold top positions in the maritime world and they're not afraid to make waves in their quest for change, innovation and growth. With the Cape Town International Boat Show taking place from 19-21 October, we showcase 7 incredible women who are making their mark in our maritime industry. 
---
The Show Manager
Kathryn Frew, Show Manager, Messe Frankfurt
"With all the changes we are making to the Cape Town Show this year, I can't wait to demonstrate to the industry what we're capable of"
Our parent company Messe Frankfurt recently acquired the Cape Town International Boat Show from its previous owners of 17 years. Messe Frankfurt is the largest trade-fair company in the world with operations in more than 50 countries – it organises over 380 shows around the world with 90 000 exhibitors and approximately 3,5 million visitors annually.
The Cape Town International Boat Show is the first maritime operation in the Messe Frankfurt portfolio and is set to become the largest luxury lifestyle show on the African continent. It will become a key platform for all boat-related companies to showcase their goods in one of the most picturesque locations on the continent alongside the best of the best in the African boating industry. Getting the right kind of people to the shows is instrumental to our company's success and we're working very closely with the City of Cape Town and the V&A Waterfront to see how we can grow the show together.
---
The Sales and Marketing Manager
Liesl Nel: Sales and Marketing Manager, Travelopia marine brands: Sunsail, The Moorings and Le Boat
"We find that more and more people who've never sailed before start falling in love with sailing as a means of exploring the coastlines of the world"
By promoting and selling sailing holidays to a travel audience, more and more people are exposed to the adventure that sailing offers, especially because you don't have to be a sailor to enjoy the experience thanks to our skippered holidays. Our other challenge can be convincing South Africans that anybody can go on a sailing holiday, it's not only reserved for celebrities and adventure sportsmen.
When we started our business, most of our enquiries were from men. They want their wives and partners to sail with them but often they needed me to have a discussion with their wife or partner to convince them that it's a fantastic holiday and that they'll love it.  Now, 10 years later I have so many women phoning to enquire – they had heard about how wonderful is from friends or they have read an article in one of the magazines.
The General Manager
Toni Mainprize: General manager, Royal Cape Yacht Club (RCYC)
"Although it's not the industry I was trained in, I jumped at the opportunity to work in the sailing world"
RCYC's main objective is to promote sailing. We organise regular racing, sailing regatta weekends, Cape Town Race Week, the Cape2Rio Yacht Race and – just as importantly – cruising in and around the Western Cape. Through our organising body, South African Sailing, we are well supported as the best and most active sailing club in the country. We are service providers to boat owners and our members. I'm really looking forward to the next edition of the Cape2Rio Race in 2020 – watching the race grow in stature, seeing the organizing team taking shape, and now with the dates fixed, the Notice of Race and marketing plan is taking effect. Our role in the race is all so exciting.
As a sailor myself I was naturally drawn to the yacht club. Although it's not the industry I was trained in, I jumped at the opportunity to work in the sailing world. For six years I managed all the sailing events at RCYC before being promoted from within the club to general manager. I understand the unique yacht club environment, the ethos, the members and the sport that I'm here to serve. I love to oversee a well-managed event and to be a part of that team.
---
The Senior Manager
Itumeleng Pooe: Senior Manager, South African Maritime Safety Authority (SAMSA)
"We need to encourage more women to study for careers in the maritime industry – to become officers, engineers and competent sailors"
My role at SAMSA involves working on the development of about 3 000km of South African coastline as well as all the inland waterways including dams, rivers, lakes and waterfalls – all valuable assets for the country's economy. The other aspect I deal with is ocean events, and local and international watersports events such as the Volvo Ocean Race, Cape2Rio Yacht Race and the Clipper Yacht Race. My background is in tourism and my current position allows me to get involved in maritime interests on so many levels, from the protection of life and property at sea to maritime regulation and promotion of the country's maritime interests (from shipping and marine manufacturing to industry development). It's such an interesting sector to be involved in – lately the area that fascinates me most is maritime law.
2018 is a significant year in the South African maritime industry with SAMSA celebrating 20 years at the forefront of local maritime development. There will be a few projects on the calendar to celebrate women's achievements over the past two decades. We need to encourage more women to study for careers in the maritime industry, to become officers, engineers and competent sailors. Women have the ability to multiply the economic impact of any sector, so I say to the powers that be, show commitment to the growing numbers of women leaders in the sector. All credit to SAMSA, as the country's maritime authority, which has a staff complement of predominantly women. However, the challenge still lies in putting these women in key strategic positions and leading by example in matters of transformation.
---
The Consultant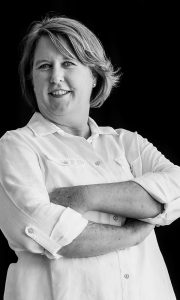 Vanessa Davidson: Independent sailing and business boating consultant
"Many South Africans are unaware of the world-class boatbuilding industry in SA – that we're the second-largest manufacturer of catamarans after France"
My consultancy liaises between industry, government and other stakeholders to promote the SA boating industry. We also specialise in marine education and training, and work closely with newly formed Boating SA and the South African Boatbuilders Export Council. Boatbuilders, marine equipment and accessories, engine systems, repairs and services, brokers, retail and training all fall under our focus.
I joined the NSRI in 1995 as a volunteer and from there I was introduced to sailing. I think there's been a change in some of the 'old-school' thinking within the boating world – new people in the industry and fresh thinking help break the mould and create new opportunities for women to claim their space. I'd like to see more women boat owners than men – that would be a game changer! I'm passionate about local marine manufacturing and the contribution it makes to our economy. There's so much potential for industry growth, training and development of young people, transformation of the sector and, at the end of the day, getting people out on the water. Many South Africans are unaware of the world-class boatbuilding industry here in SA – that we're the second-largest manufacturer of catamarans after France and we consistently win international design and manufacture awards.
---
The Chairlady
Bev le Suer: Chairlady, SA Sailing Western Cape
"We have an unspoken code that we're all a part of an amazing sailing family"
Our role is to enable others, ensuring that we're constantly growing our sport, staying on top of things and moving with the times – most importantly creating awareness and opportunities. We take pride in the fact that we deliver on our mission: 'Enabling sailing for life across all sailing disciplines for all South Africans.' I'm really excited to see the personal development of our sailors as we roll out our Metro Academy programme.     With the Cape Town International Boat Show having Messe Frankfurt as its new owner we're excited to be a part of the growth.
Our next season (from August 2018) marks the 10th leg of the Provincial Sport Exchange Programme and this project has impacted positively on the strategic planning by our Minister of Sport and Recreation as well as the Department of Cultural Affairs and Sport – they're definitely starting to understand the benefits of sailing as a sport and also for tourism and the economy. A highlight of my job is the interaction with our amazing and truly special sailors, volunteers, office support team and the many wonderful people at various institutions/organisations who we collaborate with. The energy of our kind-hearted sailors does it for me. We may not always agree on something but we pull it together and make things happen.
The National Secretary
Wendy Adams: National Secretary, SA Sailing (SAS)
"I would love to see more young women becoming qualified skippers"
SA Sailing is the national authority for the sport of sailing and is affiliated to the international governing body, World Sailing. We are responsible for the planning and management of a number of national regattas but our main responsibility is that we're the only organisation representing all forms of sailing (inland and offshore) in SA.
We also have a number of regional and subcommittees representing the interests of dinghy and keelboat sailors as well as youth sailing. We have more than 40 inland and coastal sailing clubs in SA and it is our job to ensure that international safety standards, regatta regulations and administrative procedures are followed by member clubs.
Some of our key objectives are the promotion of all aspects of the sport of sailing in SA, the encouragement of excellence as regards race management and judging, and the positioning of SA as a premier sailing destination. It is also our job to ensure that World Sailing regulations are enforced. As a black woman in a male-dominated sport, it has been a challenge gaining the respect of many sailors. That said, I thoroughly enjoy interacting with people from vastly different backgrounds and social standing. I would love to see more young women becoming qualified skippers.
Cape Town Boat Show is on from 19-21 October at the V& A Waterfront
Visit the Sail + Leisure stand, the Moorings and Sunsail waterstands and so much more. Royal Cape Yacht Club and SAS will be promoting the fun of sailing on all types of craft. Come and have a fun day on the water and try out sailing and other fun water activities. See the full Cape 31 fleet too.
By Justine Hewitt and Ingrid Hale