It was an eventful weekend in the Vendée Globe Race. There were 3 official retirements, we saw the safe transfer of Kevin Escoffier to a French Frigate from Yes We Cam!, and a new Antarctic Exclusion Zone was set.
Retirements in Cape Town
British skipper Sam Davies confirmed her retirement as she arrived in Cape Town, South Africa on Saturday, 5th December. She joins compatriot Alex Thomson who abandoned the race on arrival in Cape Town on Friday, 4th December. But while the actual race may be over for her, Sam says she would like to finish the race course unofficially, if her boat Initiatives Coeur can be repaired properly. Frenchman Sébastien Simon on ARKEA PAPREC was the third to retire.
Davies said "After the violence of the impact I'm relieved to be here, after the harshness of what I hit. But I think that it is also the magic of the Vendée Globe: the race stops but I hope the adventure does not end here. I've always said my mission is to sail around the world on this boat. For me, but also for Initiatives-Cœur, to support cardiac surgery for the kids. If I can fix the boat and go, I'm motivated to do it. This is the positive side of the story, I still have a mast, I still have my keel! I have all the pieces and I have a great team. It will probably take time, it's a big job but I'm very positive to give it a go just as Isabelle Autissier did. I think hers is a really good example, to try to keep going anyway, I need to go back to rebuild myself."
Sébastien Simon has moored ARKEA PAPREC near the other two IMOCAs, "I'm in contact with Seb, we will have a cry together and have a beer," smiled Davies.
It all started in Cape Town
And while the race ends here for Alex and Sébastien, and perhaps for Sam too, it seems ironic that it is in Cape Town where the idea of the Vendée Globe started 34 years ago. In 1986, sailors in the BOC Challenge, Guy Bernardin, Bertie Reed and Philippe Jeantot talked of their dream to have a solo non-stop race around the world. The first Vendée Globe took place just three months later.
Sam wants to finish the race and complete her solo navigation story, referring to Isabelle Autissier who dismasted in the 1992 BOC Challenge, but repaired her boat to become the first woman to complete a solo round-the-world circuit. Sam also spoke of Nick Moloney (2004-2005), and Enda O'Coineen (2016-2017) who both continued to finish the course even though they were forced to officially abandon the race. "I have a lot of respect for those who finish outside of the race," said the sailor.
A close call
Sam Davies wished her friend and rival Isabelle Joschke well, revealing that the hard driving Franco-German sailor came close to hitting her boat not long after Davies stopped after her collision.
"When I hit my UFO, the boat was at a standstill, stationary and I had collision alarms sounding. It was Isa Joschke who was coming right at me, that was my second fright. I was afraid she wouldn't see me. I had a quick, stress call with her about avoiding me. I'm super happy for her because she's having a really good race. We were really close to each other, she made a nice comeback. And so I am happy for her because she's normally one of my racing colleagues. Come on Isa, I'm completely with you! "
Female skippers forge ahead
Joschke has really found an attacking rhythm on MACSF. She had caught up the many miles lost to Davies after losing the pushpit off the back of her boat. The boat was originally built in 2007 as Safran for Marc Guillemot. Project manager, Alain Gautier added foils last year. As a successful Mini 650 class and Figaro racer, Joschke only came to the IMOCA class in 2018 when Gautier brought her in as skipper of the project. He recognised her talent in Generali colours on the Figaro circuit, and embraced the idea of working with a talented female skipper. He was a consultant to Ellen MacArthur's Kingfisher project leading up to the 2000 Vendée Globe.
Joschke looked stoic as she talking succinctly despite the big swell attacking her boat. "The last 48 hours were hellish, the sea difficult and the wind very unstable," she said as her boat sat on the edge of control in the very gusty conditions. She is maintaining high average speeds and is chasing Boris Herrmann Sea Explorer-Yacht Club de Monaco.
Clarisse Cremer on Banque Populaire X says, "This week I have had the impression of feeling at home, at one with my boat and that this is my life. Being at sea now is my life and is my daily living. I am really making the most of this amazing place and it has taken me time, to have a rhythm and I feel great. It has taken me nearly three weeks to get the measure of what I am trying to do.  I am very disappointed for my friend Sam and also for Seb. It is always very hard seeing others abandon because you know what it represents. Sam was sailing with great prudence and really well and so hard. That is the harsh reality of the Vendée Globe."
At the front of the fleet
Charlie Dalin has restored his lead. The conditions in the Indian Ocean continue to be very tough
"Every time I tried to put more sail up, I end up with big nose dives. In terms of wind, it ranges from between 30 to over 40 knots at times. I've had quite a bit of wind for a while now and it's not going to stop any time soon. But I've picked up my 'strong wind' rhythm. I managed to sleep well last night. For the last few days, I've had a little trouble eating, but I'm feeling better now. I'm starting to get used to the life in the Indian Ocean. I had a temporary setback yesterday, but I'm back in great shape. I can trim the boat, I know what wind angle I need to sail at, I've got into my Indian Ocean routine. The worry is the crossed sea. The wind alternates between South-West and North-West, so you sail at right angles to the swell. So as soon as you catch a wave, you end up nose diving and every time you start the surf you just clench and hold on. But I compromise a lot; manoeuvres take time, they come at a price, so it has to be for an advantage. Yesterday, I got caught out. It had got a bit lighter and I put up more sail and then the wind picked up and I had wipe out. There is still a long way to go. I am waiting for the wind shift (to the west) tomorrow night. It will allow me to gybe towards a new front approaching me and if all goes well, it is a gybe that could take us as far as Cape Leeuwin. If the timing is right, if I manage to keep up the pace, before the end of the weekend I'll be on port tack, a direct course towards the next cape. Yes, I'm in the lead, but there are still so many miles to go, so many things can happen… everything in its own time, I'm taking each weather system one after the other…."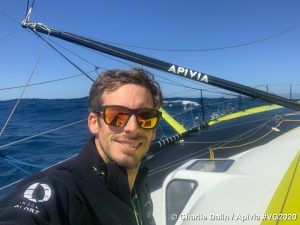 The safe transfer of Kevin Escoffier
At around 0210hrs UTC at a location in the South Indian Ocean some 360 miles north of the remote Crozet archipelago, Kevin Escoffier (PRB) was successfully transferred from Jean Le Cam's IMOCA to the Nivôse, a French Navy frigate.
Escoffier was dramatically rescued last Monday by fellow Vendée Globe competitor Jean Le Cam after his IMOCA PRB broke in two when it nose-dived into a big wave. The 35 year old skipper from Saint Malo had spent 11 and a half hours drifting in a life-raft before being picked up by five times Vendée Globe veteran Le Cam.
The evacuation of Escoffier – via a Nivôse rigid inflatable boat – went well, despite the big seas in the area.
Jean Le Cam has resumed his race in solo mode. In a message to the Vendée Globe Race Direction, Frédéric Barbe the captain of the Nivôse, wrote: "Kevin is in great shape, he is going to enjoy a hot shower. We are heading for Reunion Island. It is the start of beautiful day."
Antarctic Exclusion Zone raised by 5 degrees to improve the safety of skippers
CLS radar imagery analysts have detected around 20 questionable icebergs in about 50 images in the Crozet and Kerguelen area of the French Southern and Antarctic Lands (TAAF). Faced with these doubts, the Vendée Globe race management, after consulting with CLS teams, did not hesitate to raise the Antarctic Exclusion Zone by 5 degrees further north, lengthening this safety cordon by more than 400km. The Antarctic Exclusion Zone (AEZ) is 26,223 km in circumference, and surrounds Antarctica. It is home to several million icebergs. Crossing this zone could endanger the skipper's safety, and it also could cost them penalties.
Since July, CLS imagery analysts have been scanning altimetry curves and radar images for icebergs that could threaten seasoned Vendée Globe skippers.
A first version (V0) of this Antarctic Exclusion Zone was communicated this summer to the Vendée Globe Race Direction, then before the start a slightly modified version (V1) was transmitted to the skippers.
Icebergs detected
About twenty icebergs were detected in nearly fifty radar images of the Crozet- Kerguelen zone, in the TAAF last week.  This led to the increase of the AEZ by 5 degrees, which has extended the circumference of this security cordon by more than 400km.
In the figure below, the blue line is the new AEZ (V2), the white line is V1, the blue flakes are the icebergs detected. The white filaments represent their drift and the orange and red squares display the risk zones.
Sophie Besnard, Director of International Affairs, in charge of managing the Vendée Globe project at CLS says, "Since the start of the race, we have detected around 60 icebergs which have been identified as requiring close monitoring, most of them under the AEZ, except for those detected off the island of Crozet. In the Indian Ocean there is nothing for the moment, in the Pacific, there are a few icebergs, in front of the Ross Sea, where there is an area of very cold water. This year we are in a situation of lower iceberg density than in previous years. All our teams are mobilized, we still have half of the images to analyze by the end of the race out of the 300 planned. The most complicated period is after the passage of Cape Horn, the leader should pass this tense point a little before Christmas, the last one should pass it at the end of January."