The weekend of sailing was dominated by the start of the Vendée Globe Race. The 24 926 mile race began off Les Sables d'Olonne yesterday. Even a sea mist, which held up the start of the race for nearly one hour and 20 minutes, didn't dampen the enthusiasm and excitement of the support boats and skippers alike.   
A record 33- boat fleet was eventually rewarded with late autumn sunshine, and a near perfect 10-12 knots south easterly breeze with flat seas when the start gun finally sounded at 1420hrs French time. 27 men and 6 women solo skippers have set off on the 24,296 nautical mile round the world challenge.
Louis Burton on Bureau Vallée 2 crossed the start line first, but the third-time Vendée Globe skipper, racing the boat which won in 2016-17, and currently holding the race record, was notably seconds ahead of the gun. He has been penalised according to the strict race rules, and was required to halt his race for five hours (stopping racing and resuming from the same point) before 38°40,000N, which for him means stopping and resuming just north of Lisbon.
The newest and least proven boat of the eight new 2020 generation builds – the Juan Kouyoumdjian designed Corum L'Épargne sailed by first-timer Nico Troussel, set the early pace. Pre-race favourite Jérémie Beyou lay second and Britain's Sam Davies was fourth on Initiatives Coeur.
As the afternoon wore on and the pace lifted, on the heels of a strengthening breeze, Beyou's Charal held the lead making 26kts ahead of Charlie Dalin on Apivia in second with Briton Alex Thomson gradually winding up the potent HUGO BOSS after his promised safe, steady start, to lie third at 1600hrs local time.
They faced a difficult first night at sea with winds of over 30kts after midnight when the first front hit.
A strange and quiet farewell
This was not the usual farewell that the Vendée Globe Race competitors are used to – usually over 300 000 visitors line the race village and piers, beaches, cliffs to watch the start. With spectators banned from the famous Channel, the pier-heads, the docks and the beaches with a vigilant, active police presence, it was a particular, curiously quiet departure to the ocean.
Charal's Jérémie Beyou commented, "It is my fourth time but I have the same emotions as the first time. It is not easy, not easy. But it is cool to be here with my team I know so well, and with my boat which is well prepared. It is a special thing. I spent a bit of last night looking at the weather and strategy a bit this morning."
Herrmann said "I am happy to go and ready to go. I am very happy the race is starting at all considering the conditions, it is a good job done by everyone who has organised the race. I'm not too excited, that will come later but I slept very, very well."
Female skippers say goodbye
England's Sam Davies arrived with her partner Romain Attanasio, smiling, focused, radiant wearing her lucky red tights with white hearts on them. "I am excited, happy to be here with this amazing boat and amazing team. Now hopefully I can go and sail as well as my team has prepared my boat and for the race. I am just really looking forward to it," said the Initiatives Coeur skipper.
Her compatriot Miranda Merron looked relaxed and almost skipped to her boat, Campagne de France, "Why would I be worried, it is too late now. I have no indication right now that I am off on a round the world race on my own.  I am sure I will be more worried at the start. I hate starts, I am always worried about other boats."                     She added, "I am sure the state has a good reason to have locked up the entire population of Les Sables d'Olonne in their houses this morning but to me it seems a little mean spirited when this event comes round once every four years. And I think the organisation has done an amazing job in a very difficult context and I just I think it is a shame that even people who live right on the waterfront are not allowed out of their houses."
Reunited with her Medallia Pip Hare gushed, "I'm really, really happy even if it does not look like it," she said, looking all the time to the blue skies and fighting back tears. "I am really nervous. I can't believe this day has arrived. I can't believe it is here. It is huge. In a way I can't imagine what is ahead of me and in another way I can imagine every single minute of it. I just want to go out and find out if this thing that I have thought will be is as amazing. But I think it is going to be better."
Dignified, charismatic Japanese skipper, Kojiro Shiraishi arrived in traditional Japanese costume carrying his bō, a fighting staff.
Listen to podcasts with some of the skippers prior to the start of the race.
Business as usual
By way of contrast Alex Thomson was brisk and business-like, starting to look positively skinny as he stepped on board HUGO BOSS.
"It is a lovely morning, the fog has cleared and the sun is out. It is going to be an interesting start, great for the TV cameras, the wind should be light to begin with. It is going to build but then a bit of a light patch this evening around 6pm. Then it will build and we get to a front and try and avoid the light air off Finisterre, before the wind comes back in from the south where we will tack again and go west, with potentially difficult and boat breaking conditions, with big waves up to five metres. It is going to be a tough five to six days for all the skippers, lots of sail changes and a complicated routing. It will be tricky. And it will sort the men from the boys. For sure, it has been a tough year. It is a shame there is no public. I feel happy, privileged I have done four races before and so there is not maybe the same emotion of before. I am 2/4 in terms of my starts, I am a 50%-er, I have to make it 3/5. That is the main objective. Every Vendée Globe is the race of your life, I am just looking forward to taking this boat and seeing what we can do together."
Get daily updates for Alex here.
Read more about Alex Thomson Racing here.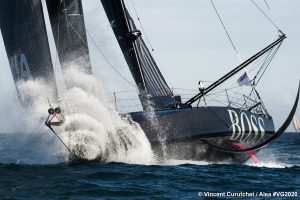 At 12.30pm French time today the leader board looks like this:
Jean le Cam – yes we Cam
Maxime Sorel – V&B Mayenne
Damien Seguin – Groupe Apicil
Get daily updated rankings here.