These days following offshore racing has to be easy to follow, interesting and immediate. The Volvo Ocean Race is a good example of how to keep fans "on board" via many platforms on a handset or desktop, and they can also pit themselves against the VOR Teams virtually.
Volvo Ocean Race Virtual Regatta
The Volvo Ocean Race is sailing's toughest challenge – a 45,000 nautical mile test of skill and character as crews race around the world on 65-foot race yachts, designed to go up to 500 nautical miles per day, with top speeds of over 30-knots.
Many sailors dream about sailing the real Volvo Ocean Race and this year VOR and Virtual Regatta have teamed up again to bring you the next best thing. While seven teams compete in the 2017-18 Volvo Ocean Race, there are hundreds of thousands more competing in the ultimate virtual sailing challenge: the Volvo Ocean Race Game.
The 2014-15 edition saw over 200,000 online skippers test their skills, charting a virtual course against the real-world fleet as it raced around the world. Currently there are over 150,000 sailors competing in the virtual regatta with 50,000 actively competing in Leg 6 to Auckland.
At 11 of the stopover ports, the crews switch gears from offshore racing to the in-port races, which are short sprints around coastal race courses. For the first time, players of the official game can test their skill with an inshore version of the game as well.
As a player, your boat sails around the clock for each leg, just like in the Volvo Ocean Race and it's up to you to prepare your boat, choose the best sail configuration and course to get to the finish line first, considering the real-life weather conditions. Virtual Regatta have updated their software this year to include live streaming of weather conditions as opposed to previous years where the data was only updated every 12 hours.
The game is available on all online platforms, including iOS and android apps.
Volvo Ocean Race and Virtual Regatta have agreed that all revenues generated from the prologue leg will be donated to the Clean Seas campaign, a part of the United Nations Environment Programme.
https://www.volvooceanrace.com/en/game.html
Volvo 3D Ocean Race Viewer
The Volvo Ocean Race 3D Tracker is a fantastic way to follow the fleet as they race around the planet. Zoom in on the boats for a virtual view of each tack and gybe, and marvel at the tactics of the teams as they fight to be first to the finish.
The Virtual Eye sailing system (developed since 1992) has become a turnkey solution for sailing events worldwide. The Virtual Eye sailing system gives people with, or without an understanding of sailing an opportunity to truly experience every moment of a race. Virtual Eye can show an entire race course, including marks, laylines, advantage lines and distances between the boats. Virtual Eye also displays timing information from starts, mark rounding and finishes. All of this information is available in real-time for immediate review and post-race analysis.
Competitors in the Volvo Ocean Race 2017-18 are being tracked by Virtual Eye from the start in Alicante, through to the finish line in The Hague in June 2018. At 45,000 nautical miles, this is the longest course in the history of the race.
The 3D Tracker is also available on all online platforms, including iOS and android apps.
Volvo Ocean Race App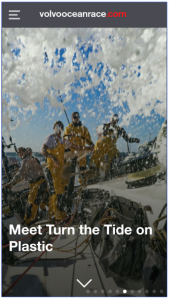 With this app, you can watch In-Port Races and Leg Starts live, track the boats 24/7, check out the world-class sailors' profiles and explore the route, the Host Cities and all the stories behind this extraordinary adventure.
This is a very much condensed version of the VOR website with fluff removed. This is perfect if you want to stay up to date with the latest news on the run.
Other ways to follow the 2017-18 Volvo Ocean Race:
Expert analysis, behind the scenes and direct from the boats:
Coverage of the race has changed – instead of each team having their own dedicated Onboard Reporter (known as 'OBRs') – a non-sailing member of the team whose duties were limited to media output including video, photos and email updates – the Volvo Ocean Race organisation now has its own squad of OBRs which they have placed onboard different boats.
These reporters will not be affiliated to a team – and hopefully will be freer to share the warts-and-all truth of sailing 45,000 miles in close confines.
The media team includes former OBRs Brian Carlin (Ireland) and Sam Greenfield (United States). They are joined by a varied team including National Geographic photographer Jen Edney (United States); Konrad Frost, who reported onboard from the Clipper Round the World Race; BBC journalist Tom Martienssen (Britain), who served as a gunner in the British Royal Air Force; and natural history documentary maker James Blake (New Zealand/Britain), who is also the son of legendary Volvo Ocean Race winner Sir Peter Blake.
Other changes include a new 'crew communicator' platform which allows sailors to post to social media directly from on board, without having to go via the race channels (but without being able to access any outside assistance). This can lead to some controversial moments, as Team Scallywag well knows.
There is a new expert commentary panel, made up of dedicated 'Race Experts', including famous photographer Rick Tomlinson, who shot the race while competing in four editions.
The panel also includes three-times Volvo crewmember Peter Tans, meteorologist Gonzalo Infante, who has forecast and sailed for America's Cup and IMOCA teams, Vendee Globe sailor Conrad Colman and Figaro racers Will Harris and Sam Matson. A new dedicated Twitter channel @RaceExperts is the place to go for their analysis and commentary.
YouTube
If you're a Youtube fanatic, you can stream all the latest coverage directly from the Volvo Ocean Race Official Youtube Channel: volvooceanracevideos
Volvo Ocean Race Website
Of course this is the go-to fallback for most fans: follow all the action on the Volvo Ocean Race website. The Volvo Ocean Race has a new dashboard with real-time weather and tracker data.
Social media
The Volvo Ocean Race Facebook page is @VolvoOceanRace, and on Twitter @VolvoOceanRace with analysis at @RaceExperts .
Of course Sail+Leisure will be keeping you updated on all the news as it happens as well!