Umhlanga, South Africa's favourite seaside holiday village is growing up… and up and up. Find the hidden gems and old-world magic of the East Coast.
The Pearls of Umhlanga now stabs the skyline with glistening glass towers, and sophisticated new shopping and eating options have opened around it. Yet the old charm remains.
Umhlanga or 'place of reeds' is at the warm heart of many happy South African holiday memories – a vibrant village that grew from a rustic beach cottage, The Oyster Lodge, in 1869, and the iconic family hotel that replaced it in 1947. Lovingly restored in 2010, The Oyster Box and sensuous pink seashell that is the Beverly Hills beside it (KZN's first five-star beach hotel, built in 1964 and lavishly revamped) launched Umhlanga's reputation as Sandton by the Sea – a playground for the well heeled. And today many of Durban's upmarket eateries and enterprises have migrated to the sprawling shopping and business complexes that now stretch from the beach to the crest of the ridge behind it.
But between the romantic nostalgia of the grand old holiday hotels and slickness of the new developments, there was room for something more. A certain cool. Enter business and movie mogul Anant Singh of Sarafina! and Mandela: Long Walk to Freedom fame, with a big-screen vision, and down in the village something stirred. The Pearls of Umhlanga was born. Two gleaming towers of sumptuous glass-walled apartments snaked skywards, then a third, just completed, with an elegant hotel – The Capital Pearls – embracing Umhlanga's first boutique shopping mall.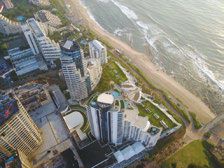 The Pearls Mall is the perfect place to start a visit to Umhlanga, and kit yourself out for your stay. Begin with a cappuccino at hip African Roots, the wood-panelled home to delectable single-origin traceable arabica coffees from the East African Highlands, and a slap-up sarmie – the home-roasted Midlands chicken with mayo on artisanal bread is a killer.
Set yourself up with designer swimwear at Jill and Co (Seafolly from Australia to Maaji from Colombia), Versace sandals from Just Japs, and statement Jangi earrings from Nauhaus (consider some Dawn Rouse botanical cushions for your lounger). To slip over your cossie, grab a fabulous one-off frock in sari silk at Turquoise. And for après beach, a little evening number from designer Fred Eboka, Jerry Garcia ripped jeans at Tititi boutique or classic Polo and Converse gear at Collar and Crew.
Now all you need is a funky beach towel and truly cool cooler bag from Durban designer Lou Harvey's signature range at her sexy little Pearls shop.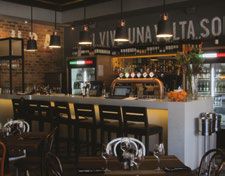 Pop in at what is surely the most attractive new Food Lover's Market in the country, and stock the cooler bag with mangos, pineapples and other local tropical delights; add decadent delicacies from Doppio Zero's beautiful on-site bakery. And finally, treat yourself to a deluxe beach-sandal pedi or wax at Hello Hunny beauty studio.
You're now ready to hit Umhlanga's magnificent sun-slapped beaches and simply chill…Alternatively, strut your stuff along the upgraded 2,7km O'Connor promenade, past The Pearls and distinctive 'whalebone pier', to the lush shade of the Umhlanga Lagoon Nature Reserve.
A winding path and boardwalks lead you through the coastal forest to the lagoon and picnic paradise. Serious nature buffs can also explore the neighbouring Hawaan Forest Nature Reserve, with rare tree species, bushbuck, duiker and mongoose – entry is restricted, so call and book a guided walk (031 566 4018).
There are fine snorkelling and dive spots just off Umhlanga, where reefs draw fish and moray eels, and you can go dolphin and whale watching (humpbacks and southern rights) from the boats operating daily from Granny's Pool on Umhlanga Main Beach.
If the weather turns, no problem – head to Gateway Theatre of Shopping for the new XD theatre (the latest technology in 4D stimulation ride, with a dozen individual electrically-controlled seats), more designer shopping (Jenni Button to Zara), restaurants (the revamped Greedy Buddha does fabulous Asian fusion) and activities from bowling, karting and putt-putt, to cooling off on the supertubes and flowriders at WavePark.
Spanking new Cornubia Mall is a stone's throw away at Mount Edgecombe, and boasts a Bounce Trampoline Park, 70km cycling trail, and three outdoor five-a-side soccer pitches, plus the first Nu Metro complex to feature multisensory 4DX, fully-immersive and ultra-luxurious VIP theatre formats and others such as 3D and Scene Xtreme (large format with surround sound), all under one roof.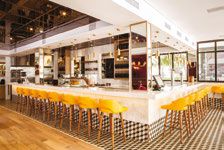 Weather aside (and Umhlangans claim close to 300 days of sunshine a year) there's little reason to leave the village, thanks to the slew of new eateries. Apart from the industrial chic of Doppio Zero, The Pearls has serene conservatory-style eating at the glass-walled Village Table (Mediterranean meets Portuguese fare), and exotic Japanese dining at the stylish Daruma among its options.
But equally exciting culinary ventures have opened along buzzing Chartwell Drive, the main dining artery of the village. Established favourites Pintxada, with its tapas feasts served in shocking-pink booths, and dapper Little Havanna, with its white-linen fine dining, continue to flourish, and have been joined by Lupa Osteria, serving Italian staples with a flourish (try the balsamic avo fillet), airy Mythos, with Greek specialities (the beetroot salad with baby fried squid heads is already a village favourite) and, from the same owner, the lively Mexican eatery Salsa.
Don't check out without trying the Chef's Table beside the nattily refurbished Protea Hotel by Marriott Durban Umhlanga. Young chef Kayla-Ann Osborn is winning foodies from afar with a fresh, simple menu that changes daily, and extraordinary desserts – think licorice mousse with fresh litchi ice cream and basil paper.
No evening in the village is complete without a crisp bubble-waffle cone or sweet taco stuffed with home-made ice cream and slathered with your choice of toppings at nearby Plan B Dessertery. If you're simply not into desserts, head instead to the buzzing little gin and cocktail bar that's opened at Europa, which boasts 25 different varieties of gin.
The most scenic way to seal off your stay, however, is overlooking the sea from the stunning Lighthouse Bar at the good old Oyster Box, or elegant Elements Café Bar at the Beverly Hills. Just remember, the sun sets inland along this coast. So on your last evening, slip a bottle of good wine into that cooler bag, and take in the most spectacular sunset you're ever likely to see – from the grassy terraces of the barn swallow viewing site at Mount Moreland, a short drive away (visit barnswallow.co.za for directions).
From November to April, millions of migrating barn swallows make the wetlands here their home. When the sun sinks they slowly gather, filling the orange sky with aerial acrobatics, then drop en masse to the reed beds below.
By Glynis Horning