We're desperate to travel again. But the past few years have taken their toll on our budgets. Condé Nast Traveller has rounded up the cheapest holidays available now, where you can keep the budget low without compromising on that holiday high.
Alentejo, Portugal
Best for: frugal foodies
For the past few years, Portugal has regularly taken a top spot in the Post Office's Holiday Money Report, which evaluates the best-value destinations. In 2020 it came in at number four, and while Lisbon has long been touted as the country's epicurean epicentre, the Alentejo region to the south of the city is underrated. Coastal towns such as Vila Nova de Milfontes, Comporta and Porto Covo provide rugged beaches, nature reserves and restaurants that entice the most loyal Lisbonites. And with no major hotel complexes ruining the cliffside views, tables are generally filled with locals – and priced for them, too. 'One of my favourites is Tasca do Celso in Milfontes,' says Monica Ali, author of Alentejo Blue. 'It's a destination restaurant, as is A Ilha just above the beach at Ilha do Pessegueiro, which does the best garlic prawns in the world and the most amazing cataplana.' In Alentejo, it's not uncommon for two courses and wine to come in at about £13 R260). You'll get change for a euro when buying an espresso; most campsites have free access to a swimming pool, such as Camping Beirã-Marvão Alentejo, and simple, smart bedrooms such as those at O Lugar cost no more than they would at a hostel from about £55 per night (R1100).
The most beautiful places in Portugal
Cape Town, South Africa
Best for: a grape escape
Even South Africans should realise what good value Cape Town is. What you get for your money is remarkable compared to overseas destinations. The wine country, easily accessible from Cape Town, is exceptionally good value with tastings starting at about £3 (R26) and vineyard trips such as Seven Sisters and M'hudi. One of the city's smartest neighbourhoods, Sea Point has recently opened up to savvy travellers with new arrival Pineapple House, a creative crash pad near the beach where bedrooms start at about £80 (R1600), and coffee pit-stop Bootlegger, where you can grab coffee for around 60p (R12) before 8.30am. Want a slice of hot opening Silo Hotel without the price tag? Try The Potluck Club on the sixth floor, where dishes start from about £3 (R60). Walk it off with a free hike to Lion's Head or Table Mountain, just 20 minutes from the city centre.
Vilnius, Lithuania
Best for: a cost-efficient city break
In 2019, Travel Supermarket's Best Value Index crunched the numbers and named Vilnius, Lithuania's capital, as the cheapest city break in Europe. With its pints priced at around £2 (R40), the place is high on the weekender agenda. The city has a boisterous pub culture that inevitably leads to a lively party scene – entry fees start at about 90p (R18) and gay bar Soho Club stays open til 7am on select days. There are plenty of B&Bs in the UNESCO-protected Old Town from which to explore the Gothic, Renaissance and baroque architecture, such as Vilnius Home B&B (from about £32 (R640) per night) and Mai Ram Yoga House from about £45 (R900). Located south of Scandinavia, the often-bypassed Baltic states – Estonia, Latvia and Lithuania – are cooler in summer than Europe's big hitters, which can be uncomfortably hot in peak season.
Buenos Aires, Argentina
Best for: a low-cost capital
In the past two years, the Argentine peso has more than halved in value – in 2018, £1 was worth about 46 pesos, now it's worth about 108. Between political turbulence, a thriving black market and Covid-19, it's no surprise Argentina's economy is struggling, but for travellers, it means more bang for your buck. Usually, getting out of the capital means spending less, but here it's the other way around – Ushuaia and Mendoza can be pricey especially after factoring in the extra travel time to get there, whereas Buenos Aires, where you'll likely fly into, is more budget-friendly. The trick is to seek out neighbourhood parrillas rather than big-name steakhouses, and hit street-food markets such as Feria de Mataderos for empanadas and choripánes. Mondays are for music, with La Bomba de Tiempo playing a regular spot at the Konex centre for around £3 (R12). Find free, late-night tango in buzzing San Telmo and a growing creative scene in Barracas. Meanwhile, Palermo has the monopoly on boutique bedrooms, such as CasaSur, L'Hôtel Palermo and Miravida Soho Hotel.
Yucatan Peninsula, Mexico
Best for: inexpensive island-hopping
It's a common misconception that Isla Holbox is exclusively for the bohemian bourgeoisie, but the tiny, car-free nature reserve isn't all swish suites and fancy rooftop restaurants. The ferry over from Chiquilá only costs about £7.50 (R150), and for a fleeting sighting of flamingos at sunrise, it's well worth it. María Carlota hotel, with its tranquil foliage and soothing light offers a sanctuary from the searing Mexican heat, and Big Fish plates up boat-fresh ceviche that doesn't break the bank. After work, locals regroup at Taco Queto for nachos and cheap, cold beer. Further south, just off Cancún, Open Water divers can wetsuit-up on Isla Mujeres for about £40 (R800), and find some of the best blue-corn tacos in the country for a few pesos each at El Torito, a family-run, open-air restaurant set back from the main strip. Renting a golf buggy will make a small dent in the budget, but it's a fun way to get some wind in your hair and explore for a day.
Dahab, Egypt
Best for: sub-aquatic adventure
With budget airlines Tui and EasyJet running direct flights to Sharm El Sheikh, beach town Dahab, an hour's drive from the airport, is more accessible than ever. Bedouin hospitality meets BYOB at the colourful, low-key daybeds-come-restaurant-tables built into the boardwalk, where marine biologists, backpackers and beach bums congregate. Home to several dive sites such as the Blue Hole, which has a shipwreck and a canyon, it's a popular and affordable place for seasoned scuba enthusiasts to add the Red Sea to their logbook – some tanks cost as little as about £20 (R400), and there's plenty to see by snorkelling, too. Due to the climate, the reef here is more resistant to coral bleaching than others, which means it has maintained impressive biodiversity even in the face of the climate crisis. Wake to the sound of waves at sea-view Airbnb Sea Stars or a beachfront apartment – with prices starting from about £34 (R680), we'd book the whole place just for ourselves.
Hanoi, Vietnam
Best for: small pockets, big appetite
Despite being cheaper than Thailand, Vietnam is also less crowded, although you might not believe that if you head straight for the capital of Hanoi. It's about 55% cheaper to live in Hanoi than London according to the Numbeo Cost of Living Index. With some of the best street food in the world (phở, bún chả, noodles, bánh mì) setting you back mere pennies, it's laughable that one operator organises food tours of the city for about £2,818 (R56360) when travellers can navigate it themselves for next to nothing. 'Grab is the best way to get around – it's South-east Asia's answer to Uber,' says Katie Lockhart, a travel and food journalist who lives in the country and favours Topas Ecolodge in Sa Pa and boutique Dechiu Hotel in Hội An. 'Download the app and avoid all language barriers and potential fare scams – it's a huge time saver.'
Goa, India
Best for: heritage homestays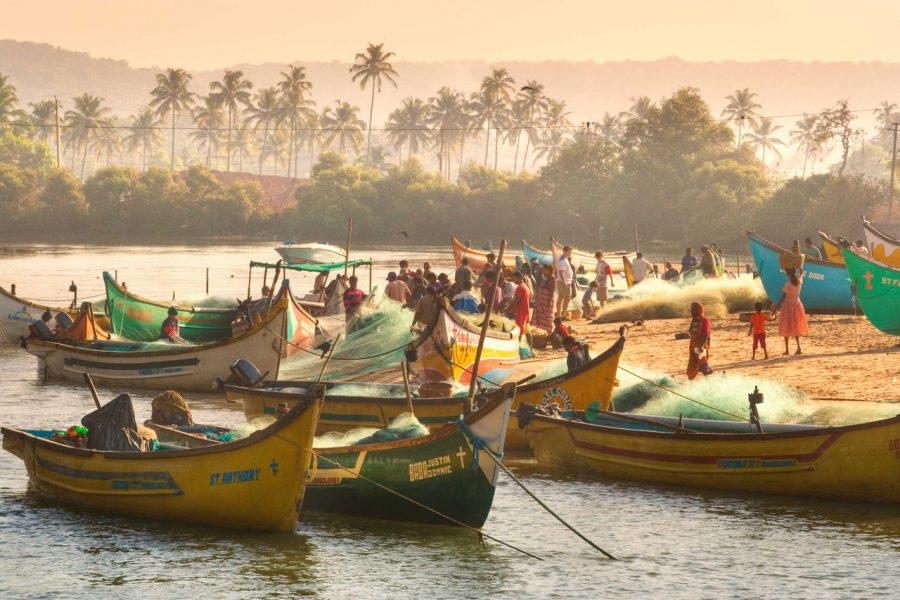 Even on the smallest budget, it's easy to do more than just survive on a shoestring in India – you can live incredibly well for very little. It's not just for backpackers, either, but those wanting to experience warm, first-rate service at one-star prices. Author Monisha Rajesh spent four months travelling the country while writing her book Around India in 80 Trains, and struggled to spend more than £1,400 (R28000). 'Look for heritage boutique hotels or small, Indian-owned groups instead of chains or brands,' she says. 'You'll usually get home-cooked food and one-on-one service from the owners with the bonus of having your own swimming pool.' She recommends 350-year-old Indo-Portuguese manor Siolim House in Goa, where doubles start at about £45 (R900), but even that might feel steep compared to some of the boho beach huts and guesthouses that can be bartered down to a third of the price.
All images: Getty