The Spanish islands set the blueprint for European beach holidays decades ago. There are more than 60 cast off the coast of the mainland, and while many of the big hitters – Ibiza, Mallorca, Lanzarote – have well-worn reputations, they are constantly reinventing themselves. In recent years, many have gained prominence for sustainability, stargazing and smart stays. These are CN Traveller's 10 favourite Spanish isles.

Ibiza
This island is a lot of different things at once. Some head here for the mega clubs, DJ sets and all-night parties; others for the beautiful beaches (and beach bars). There are people who visit for the food scene and those who tap into the surprisingly go-slow pace of life in the hamlets. There is a peaceful side to Ibiza if you know where to look – in the sleepy north, one-time ravers now have a preference for 'dirt over discotecas', says contributing editor Paul Richardson on the farm-to-table food scene. Meanwhile, boho villages in the interior such as Santa Gertrudis have a more international feel.
Where to stay: Self-described agriturismo Can Sastre near Santa Gertrudis is covered in bougainvillaea, with five bedrooms and a poolside honesty bar.
Mallorca
This is the classic holiday spot. When people set off in search of a slice of sun-soaked island life, this is what they are picturing – miles and miles of immaculate beaches and soaring mountains dotted with quiet hamlets and villages. In the past decade, the capital Palma has become one of the Mediterranean's most interesting cities. A handful of restaurants have been awarded Michelin stars – we recommend Dins Santi Taura for an intimate chef's-table experience – and there are a couple of slick hotels to check into, such as Can Bordoy Grand House, a discreet stay with a brilliant rooftop sundeck. Plus, you don't have to look far for lively beach clubs (book Purobeach for a splashy afternoon or Assaona for a more boho vibe). Away from Palma, conservation and restoration are Mallorca's driving force, with a tangible shift towards sustainable tourism via zero-waste restaurants, natural winemakers and eco-thinking hoteliers.
Where to stay: Can Ferrereta is the island's finest country hotel.
Menorca
The easygoing isle. Many crown it with the title of the Balearic with the best beaches: the water here is bluer, the sand whiter and the bays less crowded than those of its louder sisters. Pitch up at Cala Macarella, which we named one of the most beautiful beaches in Europe, for an ice-cold beer on unspoilt sand, or scroll through our edit of the best beaches in Mallorca to chart a bay-hopping road trip along the 135-mile coastline. The main cities of Ciutadella and Mahón are as low-key as the hinterland, but there are still buzzy restaurants and bars to be found here. Cova d'en Xoroi is the showstopper, teetering precariously over the impossibly azure Mediterranean near Cala en Porter, but there are also vintage-inspired dining rooms such as winemaking Binifadet in Sant Lluis and clever tapas joints (book Café Balear on Ciutadella's harbour). 
Where to stay: In Ciutadella, check into 16th-century merchant's palace Can Faustino.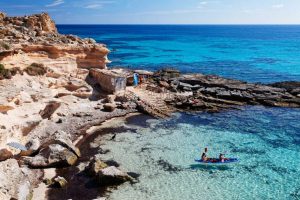 Formentera
Long known as Ibiza's quieter little sister, Formentera has carved a space for itself in the big-hitting Balearics as the chilled-out island. It's the smallest at 12 miles long and just a 25-minute ferry ride from Ibiza. Once you reach these shores, though, you realise it isn't simply a miniature copy of the White Isle. Visitors here opt for small harbours over enormous hangouts and quiet beaches with little to no infrastructure over scenic stretches of sand. There are still beach clubs, such as blissed-out 10.7 near pretty Playa Migjorn, where you'll find the best sushi on the island. But on Formentera, it comes with a laidback soundtrack.
Where to stay: Former farmhouse Etosoto has been revamped by its Parisian owners into a pretty, whitewashed villa with nine bedrooms and two houses by the sea.
Lanzarote
Lanzarote has had a less than flattering reputation for a while now, being better known for soulless resorts and package holidays. But those who don't look past this outdated image are missing out on the most surprising of the Canary Islands. There's a thriving surf scene here – serious surfers make tracks for La Santa, while fair-weather boarders prefer popular Famara on the north coast. Architect César Manrique was responsible for some of the island's most curious buildings – white-washed structures that embrace the volcanic landscape. Yet another unexpected string in Lanzarote's bow are the vintners making unusual wines – visit La Geria winery, the prettiest of them all.
Where to stay: Hire one of the best villas in Lanzarote such as stark La Cabaña or a fisherman's cottage turned Airbnb in Playa Quemada.
El Hierro
The smallest and least-visited of the Canaries, this speck of land in the Atlantic, just off the coast of Africa, is the world's first self-sufficient island due to its eco-friendly energy sources and sustainable food efforts. There are no big hotel chains, and true beach bums might avoid the place altogether – most of the coastline is volcanic rather than sandy. The lack of brilliant beaches means El Hierro is relatively untouched, its winding roads scoring through little villages carved out of black stone, with bars and bakeries and restaurants and weekly markets.
Where to stay: Hotel Puntagrande, on a rocky outcrop, has one of the best settings in El Hierro.
La Palma
This is the green Canary – a UNESCO Biosphere Reserve, touted as a learning place for sustainable development, since 1983. Similarly to the other Canaries, the southern landscape is flecked with volcanic mountains and a jagged coastline, but thick rainforest covers the north. The capital of Santa Cruz de la Palma is stacked with white-washed, historic buildings. While the beaches might not meet the lofty expectations you might have of other destinations on this list, there are curious spots such as Charco Azul, formed from natural rock, to turn heads on the coast. And the island is one of the best places in Europe for proper stargazing – head to La Palma's Roque de los Muchachos astrophysical observatory for the full experience.
Where to stay: Book into 18th-century lighthouse Faro Punta Cumplida.
Cíes Islands, Galicia
In Spain's north-western corner, the Cíes islands form a tiny archipelago just 45 minutes from the mainland. This trio is part of the Atlantic Islands national park, which means they are protected from overdevelopment. There are no cars and visitor numbers are limited to 3,000 in the peak summer months. It's here that you'll find some of the prettiest beaches in the region – in all of Spain, in fact – such as Praia de Rodas, 2,000ft of sand that slopes down to the bluest sea. Order the catch of the day at any of the restaurants with ocean views.
Where to stay: There are no hotels here, so go back to basics at the islands' campsite.
Tenerife
Holiday honeypot Tenerife isn't a secret. But drive away from the built-up south in search of adventures off the beaten path and you'll be pleasantly surprised. There's Teide, the snow-covered mountain which is Spain's highest, surrounded by the lunar landscape of a UNESCO-protected national park. Much like neighbouring La Palma, this is one of the most astonishing places to give stargazing a try. Drive out to villages such as pretty Garachico and vibrant La Laguna. Or come in February for the Carnival of Santa Cruz, the world's second-largest carnival after Rio de Janeiro.
Where to stay: The burnt-ochre walls of 18th-century manor house Hotel San Roque stand out in the old harbour town of Garachico.
Ons Islands, Galicia
Also part of the Atlantic Islands national park off the north-west coast of Spain Illa de Ons, the main isle in this archipelago is (like the Cíes islands) car free and just three-and-a-half miles long. Visitor numbers are limited – 1,800 people can land daily to discover the unspoilt beaches and jaw-dropping cliffs. The island is a Special Protection Area for birds and life in the tiny villages revolves around fishing. Several islets surround the main outcrops, and the sea teems with marine life. Head to O Curro, the biggest settlement, for dishes of octopus and scallops at one of the tiny local restaurants.
Where to stay: There are no hotels on Ons. Back on the mainland, we recommend Novavila, a locally owned stay that fuses traditional architecture and serious design smarts.
Want to visit more islands in Europe? Read more:
Best islands to visit in Croatia