The second Cape 31 Invitational regatta was held in Cape Town this past weekend. The first regatta took place during the Volvo Ocean Race Cape Town Stopover.
This invitational is the first of two regattas which are open to foreign teams to charter local boats and enjoy one-design racing on the C31's during the glorious Cape Town summer .
International flavour:                                                                                                                                                     Max Klink from Germany sailed the local boat Scud with a host of internationals from his Botin 65 team, Caro (including ex South African Jono Swain), while Martin Jozsa and his Hungarian team from the RP 60, Wild Joe sailed on Flame.
These two teams gave the locals a tough time on the water but local team TNT Racing, helmed by Tina Plattner and co-skipper Tony Norris, took the top spot with 2 seconds and 4 firsts.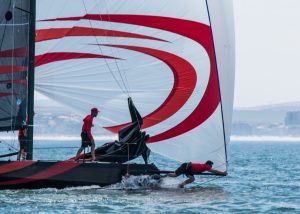 International Race Officer, Stuart Childerley along     with local RO, Doug Allison ran a smooth regatta with windward/leewards and a short distance race.           Light to medium SW and NW airs on flat water were the perfect conditions to show off what these boats can do.
RCYC hosted a wonderful event on and off the water, including a delicious sit-down dinner on Sunday evening, which allowed sailors and honored guests to socialise.
Local is lekker:                                                                                                                                                                   The Cape 31 is a local affair: the boat was originated by Cape Town-based Irvine Laidlaw, they are built and assembled by CapeTown boat builders and suppliers, and the build project is managed by South African, Michael Giles.
Dave Hudson, a well-respected sailor known for his development of the RaceAhead Management's Olympic campaigns, is the C31 Class Chairman.
7 boats are currently racing and another 5 are       on order. This means we will have 12 boats racing around Table Bay by the end of the year, if not more!
The third Cape 31 invitational is being held from 17-19 Feb in Cape Town and boats are available for charter.
Visit www.cape31.com 
Pictures: Ashleigh de Viliers