With its Atlantic coast and Mediterranean climate, Portugal is scrappier than Spain and wilder than France – its charm is in its reluctance to be too polished, and Portugal's prettiest places are raw, real, natural. CN Traveller lists 15 places in Portugal that are worth every mile travelled.
Comporta's Coast
Arguably one of the country's finest stretches of Atlantic coast, Comporta's sandy beach goes on (and on, and on…) for almost 40 miles, which means there's space to spare, even when Lisbonites head here for long weekends and wellness retreats. Its shallower, most family-friendly waters are in the northern Tróia peninsula and there's surfing towards the southern end at Praia do Carvalhal. Try horseback riding along the shoreline with Cavalos na Areia, one of the smartest stables in the area, then position yourself outside Sal restaurant for service at your daybed, and easy access to one of the best places to eat on the beach.
Monsanto, Castelo Branco
If you like the idea of Benagil for its geology (and not just its photo ops), but your itinerary is taking you to the north, head to medieval Monsanto instead, where the village is built into giant stone boulders that look like they might roll down the narrow streets clinging to the mountaintop any second. Because of its elevation and terracotta rooftops, this also happens to be a stunning spot for sunsets – Taverna Lusitana has the best tables.
GETTY IMAGES
Douro Valley Vineyards
Novelist José Saramago called this northern region the eighth wonder of the world, and there's something undeniably hypnotic about the visual ASMR of Porto's terraced topography. The wine region's winding waterway slices through the green landscape, which you can take in from a gentle river cruise or from the window of Six Senses' first European resort or the Vintage House Hotel in Pinhão.
GETTY IMAGES
Benagil Caves, Algarve
Park near Praia do Carvalho – instead of Benagil beach, which can get overcrowded – and rent a stand-up paddleboard to access the weather-worn limestone-layered Benagil Sea Cave (currents are strong, so swimming from beach to beach isn't recommended). Pools of sunshine stream through the natural skylight, but the shade cast by the rock formation provides relief from Portugal's intense heat, which can creep into the 40s in peak summer season.
GETTY IMAGES
Sintra
Some say King Ferdinand II designed the palaces in Sintra to rival Neuschwanstein Castle in Bavaria; others say it was a romantic gesture for his lover, Elise Hensler. The Parque da Pena that surround the castle is filled with rare species of roses and non-native plants – locals believe he would instruct sailors and servants to bring back seeds and flowers to plant just for her. The colourful turrets, curved cupola and chemin de ronde walkways seem to be wrapped in fondant icing in shades of ochre and red, and there are gargoyles, traditional azulejos and acres of history to explore.
GETTY IMAGES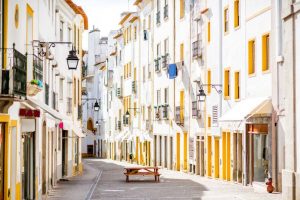 Evora
With its heatwaves, vineyards, Roman architecture and cobbled squares, the Alentejo's hottest city attracts travellers seeking culture, food and climate all in one place. Originally due to open in 2020, Evora Farm Hotel is finally slated to launch in June 2021 with 57 bedrooms and 25 private villas, finished with a mash-up of country design (raw wood, glossy granite, leather chesterfields) and Mediterranean touches – wicker lamps, azulejo ceramics – making it the perfect basecamp for Evora explorers.
GETTY IMAGES
Praia de Odeceixe, Costa Vicentina
Straddling the region between the Algarve and Alentejo, this cliffside, thumbprint-shaped beach – which is also the mouth of the River Seixe – is one of the south's best-kept secrets. It is part of a National Park, so its unspoilt quality makes it a spectacular place to finish a hike along the Rota Vicentina trails and celebrate with a cold beer at Bar da Praia. At low tide, there are rock pools for playing and shallows for paddling, and while the water on the riverside is calm and gentle, there are decent surfable waves on the oceanside too.
GETTY IMAGES
Alentejo's Sunflower Fields
In summer, six-foot sunflowers bloom in their hundreds in Alentejo, the lesser-known region whose natural beauty is starting to draw holiday-makers and hotel owners alike. Drive south from Cuba towards Aljustrel and keep your eyes peeled for jars of raw girassol honey made by local beekeepers, plus stop and inhale the fragrant fields of lavender, cork oak, olives and wheat (but do be mindful these are farmers' crops, not just photo backdrops).
GETTY IMAGES
The Islets of the Azores
Less than a mile off São Miguel is the islet of Vila Franca do Campo, a volcanic crater surrounded by underwater caves and the Atlantic's (often icy) waters, and connected by a small channel called a boquete. The only inhabitants of the nature reserve are sea birds such as little egrets and Bulwer's petrels, so fishing and camping are not allowed (and there are no facilities), but the clear lagoon is perfect for snorkelling and scuba diving – pack a wetsuit, plenty of water and a few pastéis de nata for when you emerge salty lipped and sun-kissed.
GETTY IMAGES
Obidos
About an hour outside of Lisbon, Obidos is a walled hilltop town with narrow cobbled streets and whitewashed houses. Stay at eco design hotel Rio do Prado, which in May 2021 started welcoming diners to its brand new restaurant The Market Man, a greenhouse that grows more than 2,000 plants to be used in its rural recipes. Head to Bar Ibn Errik Rex to try ginjinha, a local liqueur made from Morello cherries, and take a wander round the city walls (not necessarily in that order – the walls reach up to 43ft and some don't have handrails).
GETTY IMAGES
Aveiro
The city's traditional boats and criss-crossing canals often draw comparisons to Venice, but you won't get the hordes of visitors or sinking-city melancholy here. Instead, the moliceiro vessels' painted prows, the town's Art Nouveau façades and Costa Nova's brightly striped beach huts are colourful reminders of the area's history. Eschew the obligatory Portuguese custard tarts for local ovos moles de Aveiro, which are shaped like shells and have protected status (much like Champagne, they can only be named as such if they come from this region).
GETTY IMAGES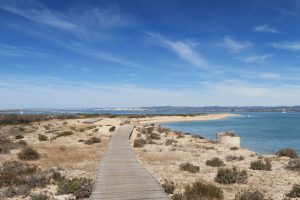 Ilha Deserta
Brush up on your tide tables and escape the Algarve's tourists by taking a boat from Faro to Ilha Deserta, which on a quiet day feels like your very own private island – or oversized sand dune. In March 2021, seafood restaurant Estaminé, the only structure on the island, burnt down in a freak fire, but plans are on track to have it up and running again by summer 2021, so guests can dig their fingers into bowls of boat-fresh prawns once again before spending an afternoon in the clear, warm water, spotting purple swamphen or collecting seashells.
ALAMY
Berlengas Islands
A few miles off Peniche's rocky peninsula is a UNESCO-protected nature reserve in the form of the Berlengas Islands archipelago, where conditions are ideal for scuba diving – good visibility, calm waters, plenty of wildlife. On board your boat, spot dolphins from the deck, and underwater come face to fin with elusive John Dory fish, octopus, manta ray, nudibranch and giant sunfish among shipwrecks and caves on a fertile volcanic seabed.
GETTY IMAGES
Serra da Estrela Natural Park
Paragliding, trekking and mountain biking are popular in Portugal, but not many know you can ski here too – Serra da Estrela's National Park includes a small resort just a few hours from Lisbon. February is the best time for snow cover, but the mountainous terrain also offers landscapes blanketed in wildflowers and glassy lakes year-round, including Covão dos Conchos, which has an artificial spillway that looks (and acts) like a sinkhole. Make sure to include a cheese tasting in your itinerary and pick up some chestnut liqueur from the historical hilltop village of Piódão.
GETTY IMAGES
Arouca Geopark
In May 2021, Arouca Geopark unveiled the world's longest pedestrian suspension bridge, which hangs 574ft above Paiva River and offers sensational views of the conservation space, Aguieiras Waterfall and Paiva Gorge – if you can muster the courage to cross it, that is. After the adrenalin wears off, head to the Pedras Parideiras, a geological phenomenon whose name loosely translates to 'breeding stones' – small rocks that emerge from large ones. It's the result of changing temperatures and erosion, but folklore suggests that the site has the power to get women pregnant.
Read more:
The Most Beautiful Places in France