For Max Sirena, skipper of the Luna Rossa Prada Pirelli team challenging for the upcoming America's Cup trophy, sailing is an obsession. After their consistent performance at the America's Cup World Series in December it become clear that Luna Rossa Prada Pirelli is on pace. And the team has a real chance at becoming the official Challenger to Emirates Team New Zealand after The Prada Cup, which starts on 15th January. Debbie Hathway chatted to Max ahead of another jaw-dropping spectacle of sailing.
Passionate armchair and active sailors thirsty for news about the upcoming 36th America's Cup to be held in Auckland, New Zealand in March 2021 will be scouring social media for updates by their water-sports heroes. Elite sailors who compete at this level can be seen to walk on water. In the case of team Luna Rossa Prada Pirelli, they walk under it too. Literally.
When I interviewed skipper Massimiliano "Max" Sirena earlier this year, the team was just out of lockdown and 10 days in to trialling their Boat 1 on the water near their base at Cagliari, the capital city of the Italian island of Sardinia.
Winning campaigns
Born in Rimini in 1971, Sirena is competing in his seventh America's Cup challenge. Two of these were winning campaigns – the 33rd edition with BMW Oracle Racing and the 35th edition with Emirates Team New Zealand.
In 2000, Luna Rossa won the Louis Vuitton Cup – the challengers' selection series for the America's Cup – with a record 38 victories out of 49 races. The team also participated in the America's Cup 2003, 2007 and 2013 editions, making it to the finals in 2007 and 2013. Sirena was skipper and team director for Luna Rossa's 34th America's Cup campaign and now also the 36th.
We talked about lockdown challenges, team spirit, motivation, technological challenges, simulation trials, sports psychologists and Italian sponsors. We didn't get around to diet and training but the @lunarossachallenge Instagram feed covers some of it. It's where I spotted pictures of the crew in July wearing nothing but swimming trunks and goggles, walking and running along the seabed carrying large rocks. The description reads, "#Training. A simple word for a complex process. Underwater sessions to improve confidence, which translates into increased safety. #Strength."
A week later, they posted jaw-dropping action sailing shots of their AC75 captioned with adjectives such as "violent", "alarming" and "unpredictable". "I think it was on 17 March that we had an issue on the boat. It's not a lucky number in Italy. In fact, we had pretty big damage," says Sirena.
The fear factor
With all his sailing experience, I wonder if a boat as powerful as this can still scare him. "Adrenalin is pumping all the time, and more and more the boat will go faster and faster while we get closer to the competition, to the race. Obviously there is also a part of your brain that is thinking about fear but, in the end, we're built for that," says Sirena. "We need to pay attention. We don't have much time to think about how scary it can be. There's a tiny line… when it becomes dangerous. Fear is good as long as it's driving you in the right direction. If you are smart enough, you can come back home in one piece."
What has he enjoyed most about the boat so far? "To be honest, everything. In the beginning we were a little bit in doubt, because it's a pretty challenging boat – from a design point of view, to sail the boat, to maintain the boat, even from a dynamic point of view – this is a boat that is always on the edge of equilibrium."
He compares the sailing experience to racing a car – and having sex. On a racetrack, the faster you go the more unpredictable the car can be. "This boat is almost the opposite. Once you are going up on the foil, and going fast, you are almost more in control than when you are at a low speed," he explains. "I like everything. The fact that it is such a complex machine is a challenge. And that is something I really like. I have always been attracted by the technology applied to the piece, to what you are dreaming, and thinking, and also sailing this boat. It is like having sex. It is new all the time, and there are basically only a few of us in the world able to sail with this type of boat. That makes the moment unique."
Obsessed
Team Luna Rossa Prada Pirelli started training in earnest after Easter, following almost 40 days of no sailing activity, owing to the global lockdown. Being out of the water is a big problem. "There is only so much simulation you can do on the computer," explains Sirena. "The answers you get once you are out sailing, especially for the designer, are way more important. (The training) has been good, and positive. If you want to be at the top you need to be full powered and full of energy. The other guys will realise immediately if you are weak. I am super competitive, probably too much, and am always asking 100% from everyone. I get tough if I don't see the same response from other people."
The challenge of lockdown
At the beginning of the Italian lockdown, Sirena says he spent a lot of energy making sure people remained confident and comfortable with the status quo. "We needed to find the patience to stay close to people, to understand their needs. It doesn't work with everyone, and sometimes we have to be tough. We need to keep going, need to move forward, need to learn to live together with this problem, because it is not going to disappear in weeks. We have to make sure we are not going to be a victim. We need to react and be the guy who leads in the moment."
In order to remain functional at their Cagliari base, while they waited out the initial lockdown, a roster was created for people to come in to modify and maintain the boat. "That was a strange feeling but we got used it. Now that the world is opening up it's scary the other way around. We need to monitor everything and make sure we protect our environment."
It was a challenge not being able to participate in the planned races in Cagliari and Portsmouth and therefore assess the boat's performance against the competition. However, as good sailors, Sirena points out that they always need to be prepared and flexible enough to handle the situation they are facing on the water. "We are used to reacting in the best and fastest way possible. That is a good attitude for us in our personal life. Once you are out on the ocean, you cannot choose the weather. You get what you get."
Race against time
As the official sponsor of Luna Rossa, Panerai launched a new collection of watches in 2019 dedicated to the first Italian team to challenge the Cup defender. Ultimately, there will be five models to choose from.
The Panerai Luna Rossa Challenger Submersible 47mm diving watch features a case made of CarbotechTM, similar to the carbon-fibre material in the hull of Luna Rossa's AC75. This material is favoured for its lightness, resistance to external shocks and freedom from corrosion. The watch is water-resistant to 300 metres.
"I'm always saying we are racing against the time," says Sirena. "Even if it is hard, we need to be in control of the time available. That is why we use our Panerai watches on the water. In the end the watch is a tool and it has the same value of whatever else we are taking with us on board."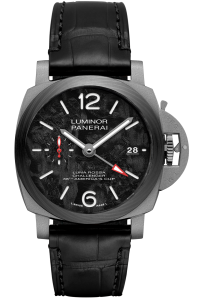 He emphasises that this has not just been a commercial partnership, but a technical one too. Sirena worked with Panerai's R&D department to develop the watch. "I am passionate about watches. There are probably 50 in my collection, and I have many Panerai watches as well. But this is the first time I have been deeply involved in the development and build of a watch. I am really happy to be able to use this watch almost every day. It is cool to say it is something built by team Luna Rossa and Panerai."
Sirena sees a watch as a piece of art, marvelling at the designers' ability to fit so much technology into such a small accessory. This skill even led to the Panerai technician being roped into consultations on designing Luna Rossa's complex on-board system. "We were struggling to find enough space for the gearing, etc. so we thought why don't we ask this guy? He knows how to fit thousands of components into the diameter of a 30mm dial. It was a great result," says Sirena.
He reflects on his first meeting with Panerai CEO Jean-Marc Pontroué around 2017, when he made it clear that he wanted this partnership to be more than a commercial one. He loves storytelling and he loves Panerai because it is an Italian brand with a long history. "I pushed pretty hard to have (them) on board," he says. "We are building a story together. It is not just about money and a logo. The Panerai ambassadors are real people. One guy goes 100m under the water, the other one goes 1 000m up (referring to freediving world champion Guillaume Néry and adventurer Mike Horn respectively). We are in the middle. I am happy and privileged to be part of this family."
Designed to fly
In 2018, the publication of the AC75 Class rule marked the beginning of a new sailing era. Nowadays foils are commonplace, but the engineering and sailing techniques needed to get the AC75 to fly are completely different from anything seen before.
To start with, the AC75 is big – 75-feet long and 16-feet wide – but, it's also light, which is crucial, because the AC75 is designed to fly. It's also different – rather than a keel, a brand new concept keeps it standing. Foil-cant arms move under, or outside, the boat to provide the leverage it needs to stay upright.
Some parts of the boat are supplied – the mast, rigging, foil-cant arms and their hydraulics are all stock components. But, there are still plenty of areas where designers can experiment to find a race-winning edge.
A new evolution this America's Cup is the twin-skin mainsail. The double-sail skins combine with the spar to form a wing, generating the power the AC75 needs to foil.
Underwater is where things get really interesting, but the story starts inside the boat. The foil-cant system is brand-new technology – a battery-driven, hydraulic power-unit that supplies the energy to lift and lower the immensely strong – and heavy – foil-cant arms.
As the boat swaps tacks, the cant system is activated, placing one hydrofoil in the water, and lifting the other one out, where its weight becomes ballast.
At the end of the arms lie the teams' secret weapons – the foil wings. Apart from basic rules governing dimensions and weight, these are open territory for designers.
Official timekeeper
The PRADA America's Cup World Series Auckland and the PRADA Christmas Race will see the teams congregate in Auckland, New Zealand from 17 to 20 December 2020. This will be the first time they race against each other on their second AC75s ahead of the PRADA Cup Challenger Selection Series taking place from January 15 to February 24, 2021, for which Panerai is official timekeeper. The race will establish which team will compete against the defender, Emirates New Zealand, in the America's Cup final in March 2021.
Watch the World Series live on americascup.com or on their youtube channel.