With time on our hands we thought it only fitting to think about some local locations perfect for your first post-lockdown adventure! Whether you've got the time to enjoy a full week at a coastal getaway, or just the weekend to relax and breathe in your freedom, these oceanic splendours that are all about the view, will ignite your spirit. Find luxury at your leisure at these mesmerising lodges.
THE BIG CHILL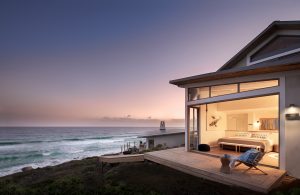 With a two-night set stay – although most guests like to check in for around five nights or more – Lekkerwater Beach Lodge at De Hoop Nature Reserve means space and time away from everyone and everything. As you're staying in pared-down elegance in a national park, there are literally no people around, so it's just you (and your beloved if it's couple time you're after) and some of the most astounding sea views in the Western Cape. Situated in a marine- protected area, the lodge is totally off the grid, with a careful and tiny footprint – that's how conservation-minded Lekkerwater is
– which means only seven staff effortlessly manage the property and guests' needs.
What's on the agenda? About as much or as little as you'd like – nature walks with experienced naturalists or, weather dependent, an evening of sundowners or a BBQ under the stars on the expansive beach that will be your holiday's perpetual view. Aesthetics – done ever so tastefully – have a proudly local heritage and style, with South African designers' pieces dressing the property in a way that doesn't clash garishly with the beauty of sand, sea and sky. Dining – when not done at the water's edge – is communal at the lodge's long table and guests can expect delicious meals all prepared with a South African twist, and paired with Cape wines from the Overberg region, for instance. With this all-inclusive stay, you'll strike gold at Lekkerwater, especially if you're looking to zone out, avoid the crowds and see our local marine world in a gloriously unspoiled setting.
naturalselection.travel
WEEKEND WONDER

The approach to Tintswalo at Boulders – the group's latest property just beyond charming Simon's Town – may be fraught with a small colony of penguins waddling across the road from the beach into the neighbourhood. I say 'fraught' because obviously it's imperative you slow down your car to a crawl as the area's locals make their journey up from the sea. Also, if you have small children with you, the excitement is frenzied. Tintswalo at Boulders is an excellent option for those who, like me, need to entertain littlies and are put off by kitschy and overcrowded resorts. It's also the ticket if you want a new experience to enjoy with your children. The world-famous African penguins are found on Boulders Beach, which falls under the Table Mountain National Park Marine Protected Area, and is a quick stroll away via a beautiful boardwalk thanks to the boutique villa's private gate. Once on the beach – honestly one of Cape Town's finest – you can enjoy pristine swimming, sublime views, rock-pool exploration or just kicking back and relishing the sounds of the
Indian Ocean. On the way back to the villa, visit the protected reserve, where little (and big) kids can see the now 2 200-strong colony up close in their natural habitat. If your visit to this beautiful property doesn't include the family, rest assured you'll be ensconced away from the children's suite so that your breakaway isn't disturbed.
Rooms are tastefully appointed and all nine have been thoughtfully curated to tell the story of some of the world's most famous seafaring vessels, such as the Mary Rose, Mayflower and Cutty Sark. Accommodation is on a bed-and-breakfast basis – and what a breakfast it is! Expect the full monty, but prepared and presented in the most refined manner. After an hour of croissants, fruit and eggs Benedict, followed by pastries and fresh juices, it's unlikely you'll be peckish for the rest of the day. Not until late afternoon snacks are served, that is. Ask to be seated on the terrace overlooking the beach and
its famous boulders. After all, that's why you're here. And speaking of magic views, Tintswalo at Boulders' sister property Tintswalo Atlantic has reopened. With gloriously refurbished suites (named and designed after exotic islands), the seascape from the deck as the sun rises and sets is no doubt one of the best views in Cape Town.
tintswalo.com
TAKE TWO
Heading to the Mother City this festive season? Enjoy these new luxury experiences at two of Cape Town's landmark hotels.
All yours
The latest accommodation at the Mother City's grande dame of hotels, the Belmond Mount Nelson, is Honeysuckle Cottage, which can be booked for exclusive use. The property is one in a row of historic terraced houses, believed to have been built in the 1890s at a time when Cape Town was booming. Brought to opulent life by renowned interior designer Graham Viney, the cottage looks onto charming flowering gardens, is adjacent to an adults-only heated swimming pool and is perfect for long stays in the city.
Let's do brunch
Tired of Sunday lunches that stretch for the entire day? Opt for brunch instead – and choose the most striking of settings in the form of Signal Restaurant at the Cape Grace hotel to enjoy oysters, smoked salmon, bubbly and more. From 11.30am to 3pm the buffet table groans with a delectable feast to be enjoyed at your leisure, with a view of the harbour beyond.
capegrace.com
Original article
by Helen Clemson for Sail + Leisure
[ The Debrief: Luxury at your Leisure ]