The most prestigious sailing event in South Africa starts this weekend. 2019 Lipton Challenge Cup winners Nitro, sailing for Witbank Yacht and Aquatic Club, will defend the Cup from Club Mykonos and the waters of Langebaan from 15th to 21st August.
Saldanha offers a wide range of challenging racing areas. From the south Atlantic swells and the prevailing winter south westerlies, to the more protected race tracks inshore of Jutten Island, Race Officer Doug Allison will have plenty options when setting the required courses.
A hard act to follow
The 2019 Lipton Challenge Cup attracted by far some of the most pedigreed fleet of SA yachtsmen the event has ever seen. Sailing the fast-paced Cape 31 for the first time in the Cup's history provided the highest level of sailing this country had seen in a long time. The event attracted world champs, America's Cup sailors and SA Olympians too. As could be expected, the competition was tight with lead changes on every leg, and podium places changing in every race. Nitro went on to win the Cup in a hard-fought battle.
Although the fleet is small this year due to factors attributed to Covid, as well as the growing Cape 31 fleet in the UK placing a high demand for boats, there is by no means a shortage of top South African sailing talent competing in the Lipton Challenge Cup 2021. It certainly won't make the regatta any less prestigious or iconic.
The 2021 Challenge is hosted by Witbank Yacht and Aquatic Club in partnership with Langebaan's iconic Club Mykonos, which has hosted many international and local sailing events over the years, including two World Championships, an African Continental Championship, numerous SA National Championships and two previous Lipton Challenge Cups.
Follow the racing and results here.
Meet the teams
The Defenders
Nitro – Mike Hayton/David Rae
2019 Champions, Nitro are back to retain the Cup. They are sailing for Witbank Yacht and Aquatic Club, skippered by Dave Rae and Mike Hayton. David Rae has 6 Lipton Cup titles to his name.
The team: David Rae, Mike Hayton,  Joweal Klaase, Murray Wilcocks, Paul Allardice, Gary Sindler, Markus Progli, Shaun Ferry
                                                                 The Challengers
Vulcan – Johnny Cullum / Hylton Hale
Vulcan is skippered by Hylton Hale and will be sailing for the Royal Cape Yacht Club as the challenger-of-record. Hylton is a highly decorated course and offshore sailor, winning numerous campaigns both locally and internationally.
The team: Hylton Hale, Colin Whitehead (Manager), Andrea Giovanni, Carl Richter, Ryan Avery, Chris Gough, Peter Marsh, Michelle Beale and Cameron Boustead.
Orion DYP – Davey James / Ellian Perch
Sailing for Royal Natal Yacht Club, skipper Davey James has put together a strong crew after a successful season with a number of wins. Orion DYP will undoubtedly be looking to take the challenge to Witbank Yacht Club's Nitro to take the trophy back to KZN.
The team is: Davey James, Pete Shaw, Marcello Burricks, Mike Clarke, Sean Van Rensburgh, Stef Marcia, Alex Falcon and Stuart Bailey.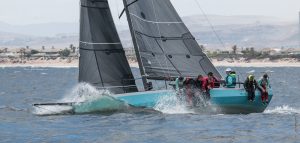 CuAl6(PO4)4(OH)8-4H2O – Lance Burger / Heidi Burger
Turquoise will be flying the burgee of Zeekoe Vlei Yacht Club. The father-daughter duo of Lance (skipper) and Heidi Burger will be looking for top results after seeing huge progress in the 20/21 C31 season.
The team is: Lance Burger, Heidi Burger, James Stock, MJ Rosslee , Marine Leblond, Ross Mackinnon , Tristan Tomlinson and Tammy Bailes.
Nemesis – Philip Baum
Skippered by World Sailing VP Philip Baum, Nemesis is representing the Aeolians Sailing Club. The team is made up of a great mix of both youth and experience.
The team is: Philip Baum, Dave Hudson, Dominique Provoyeur, Marlon Jones, Owen Middleton, Lance Curtis, Greg Weeks and Oscar Baum.