For more than 35 years Jacobs Bros. has been custom building aluminum yachts for purposes as diverse as cruising the world's oceans, exploring the Amazon and traversing Holland's canals. We discover how one man's challenge to his brothers turned into a family's niche boatbuilding business.
There is a framed photograph of the yacht name Equation mounted above the dining-room table in the Jacob's family home. She was part of the fleet sending off the boats participating in the 1981 Cape to Uruguay* race. Built over weekends as a hobby, the steel 45ft Van der Stadt design was the Jacobs' brothers first foray into boatbuilding, and took them four years to complete (from 1974 to 1978). 'My eldest brother, Ismail, came home with these plans he got from a German sailor he had helped out with a build for free. He laid the drawings on the table, saying he wanted us to build this boat, and he wasn't taking no for an answer… The royalties were paid, and a month or two later, a truck pulled up to out house laden with steel,' explains Faud Jacobs, who runs the business now with his sons, Sieraj and Taariq. 'We had never built a boat before. We were all tradesmen, but if you're mechanically minded, have plans, and can weld, well, then it's not such a big thing.'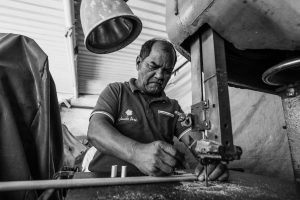 Even though the five brothers had built the boat as a project for themselves, a persuasive British couple insisted on buying it. Equation was subsequently sold, and instead of being satisfied with a challenge accomplished, Ismail was ready to build the next one, a 47ft André Maurice. The idea came about after a friend of Ismail's had seen what he called an 'interesting-looking yacht' mooring at the Royal Cape Yacht Club (via the power telescope he had in his home in Bo Kaap). 'We contacted the owners and asked if we could come onboard to take a look,' Faud says. The Two brothers were intrigued by its centreboard and retractable rudder, and decided to apply for the plans to build one like it.
For this 47 footer, the brothers decided on aluminium, and Double Vision was completed around 1985, after which Jacobs Bros. was officially established. 'We had Double Vision in the family for around 12 years, and even though we wanted to sail her to Brazil, we had started families, so we sailed around Simon's Town, Saldanha, just locally, instead. But she got us into boatbuilding proper,' Faud explains. Their first commissioned vessel was a 39ft Dudley Dix Shearwater. Another of the early builds was a Southwell 65ft called Get More Fun, which on her maiden voyage broke the record for the popular beachcomber race from Durban to Mauritius, knocking an incredible two days off her return voyage to make it back in six days. This record still stands today.
'The boats that my dad and his brothers built in the late 80s and 90s were almost always specialised in some way, and this evolved into what we do today with the custom builds in aluminium,' says Sieraj. The adventure and expedition market has grown considerably, and so has the need for boats that can handle all terrains. 'We build the 4x4s of the sea,' he smiles. A recent 56 footer, weighing 25tons, built for a Swiss couple for cruising has a retractable keel and rudder – when the fins are up, the draft is reduced to a mere 800mm, Sieraj adds by way of example. This feature also allows them to sail in the shallows and beach the vessel if necessary. They built a boat for a German adventurer who has sailed 3000 miles up the Amazon, and another whose rigging folds down for a sailor intent on exploring Holland's canals that are dotted with bridges. Faraway, aluminium high-latitude cruiser – has carried South African adventurer Gert van der Linde on Three voyages, including a cruise to the Antarctic peninsula in 2013 an, more recently, one that saw him circumnavigating the Antarctic double handed. It's quite an impressive CV.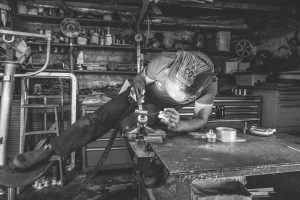 'With us, each boat is different. Clients do their homework, have designs drawn up, and when they come to us, they are already completely emotionally invested in the project. Then we become invested,' says Sieraj. 'They have come to us for a reason,' he adds, 'and often it's because they want to "bundu bash" in the water – sail in high latitudes, go up a river, explore canals. When the boat is ready, and they arrive to fetch it, they have usually packed up or sold everything they have to go on this adventure.'
'It can take up to two years from point of contact with a client to when we that the building, and then another two years till completion,' Taariq says, 'Clients may have had boats before, but now they want the boat. There is a lot of planning involved.' And relationship building. 'Our clients are our best salespeople,' Faud adds.
'Our reputation come from 30 years of building boats, and it runs so far ahead of us that people come here expecting to find a big corporation. Most of them like it that it is a family business, and that we pay attention to what they want. We don't want to change that,' Sieraj says.
*The Cape to Uruguay ran from 1979 to 1985, with Punta del Este as destination. Rio had pulled put as the finishing port, as Brazil had introduced sanctions at the time due to South Africa's political situation.
Words by: Wendy Martiz.