Following a family holiday on the beautiful island of Mauritius, this lucky Ed was invited to experience the newly refurbished LUX* Grand Gaube.
Kelly Hoppen's eclectic retro-chic design concept for LUX* Grand Gaube is as far removed from a standard resort look and feel as you can get. But that's the point. Because there's nothing standard about a LUX* resort.
Locally owned by the IBL Group, the LUX* Resorts and Hotels group is led by charismatic group CEO Paul Jones, who drives the innovative nature of the LUX* brand. The attention to detail and unique guest experience is what makes this group stand out for me. They promise a different kind of luxury – hospitality that is 'Lighter. Brighter.'
The attention to detail and unique guest experience is what makes this group stand out for me. They promise a different kind of luxury – hospitality that is 'Lighter. Brighter.' And they do it through their people, culture and service, which combine to deliver exceptional experiences in different locales – whether on the beach, in the city or in nature.
It's all in the detail. Think large paintbrushes hanging on signs that ask you to wipe the sand off your feet before entering the pools and the buildings. 'Smart' air-conditioners in the bedrooms that switch off automatically as you open the door to your private deck. Cool shades in stylish bedrooms with huge, comfortable beds and fluffy gowns to relax in. The lovely organic soaps from the Maldives in citrus and mandarin fragrances, which are a real treat. The friendly staff who can't do enough for you. And the signature LUX* experiences such as Beach Rouge and Café LUX*, the first gourmet coffee brand created on the island.
Besides the dreamy LUX* Me Spa and its natural product ranges, there are many experiences on offer that allow you to customise your stay. The Cinema Paradiso concept is such fun. We watched <Pretty Woman>IT under the stars in the tropical gardens while eating hot popcorn and being served drinks on chaise longues. You can snack on ice cream served from a Mini Cooper that has been converted into a fridge, or try a rum cocktail or two – there are 88 different kinds of rum in the Tree House. All you have to do to order is tug on a cabana-style rope! And if gin is more your tipple, choose one of 100 at the G&T 100 Club. Who knew there were so many?
We enjoyed the elegant adult-only pool and its grand day beds where we sipped on piña coladas served from the retro drinks truck. You can tell that the bartenders enjoy making the cocktails from there – they sing and laugh as they prepare your drinks while Bob Marley tunes play in the background.
The main beach is vibey – a fun place to be for families and watersports enthusiasts – and is close to the main restaurants. With six restaurants and four bars to choose from, there is an incredible selection of food at LUX* Grand Gaube.
The Palm Court serves as the location for the wonderful 'pop-up' restaurants. Place your order with the chefs directly and they'll prepare your meal to your personal taste. Breakfast, lunch and dinner options cater for all tastes – Indian, Italian, Western, Japanese and Creole – and there's an on-site bakery that prepares fresh pastries, breads and pancakes.
We enjoyed a delicious mezze lunch at the Bodrum Blue café overlooking the bay. Decorated in shades of blue, this place transports you to another world as you sit dreamily staring at the ocean and snacking on delicious Turkish flat breads and tapas.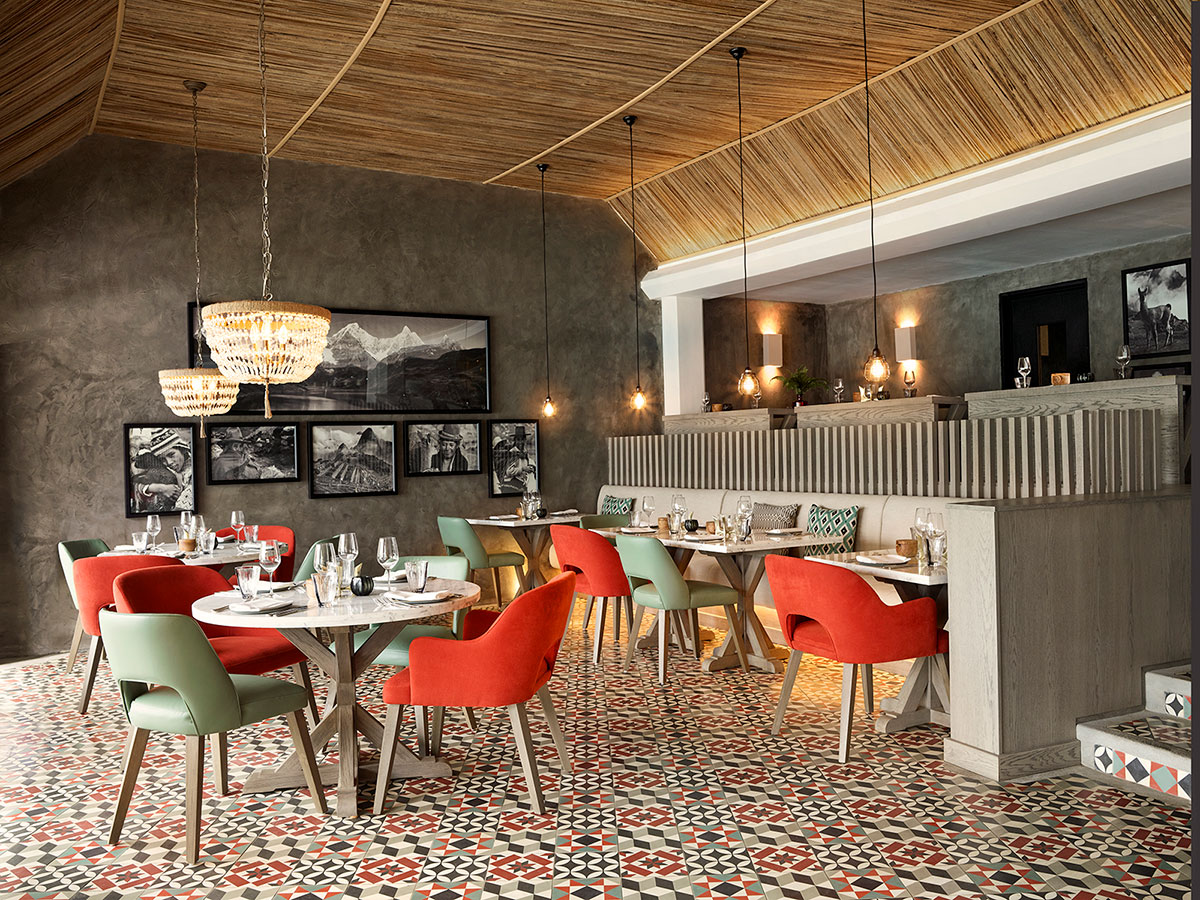 The décor of the Peruvian-Argentinian restaurant, Inti (meaning the God of Sun), will appeal to foodies and stylists alike. It feels like you're stepping into a time machine. A stunning bar area next to the restaurant features exquisite fabrics in shades of teal and red. The mosaic flooring, wall art – comprising enlarged black-and-white photographs – and general décor is so elegant, and the food doesn't disappoint either. It's best to order a few small dishes as the tapas-style of eating is indicative of the Peruvian culture. The six different ceviche dishes are a must! Try the delicious Chilean wine too.
Another winner is the Creole Smoke House located under the ancient banyan trees where a delicious array of foods cooked on wood and charcoal is served. The wicker lampshades that hang from the external roots are a lovely touch and there's a large rope swing that brings out a little of the kid in you. Next door is the Banyan Burger Shack, which serves mouth-watering artisanal burgers and fries. There are burgers for vegans, too.
Ask about their monthly wine-tasting evenings and bi-monthly food-and-wine pairing events, which fell outside the dates of our visit. Wines from all over the world are on offer, including from South Africa.
All in all, our visit was too short, but we packed in a lot and really enjoyed being able to tailor-make our stay. LUX* Grand Gaube is highly recommended for a stylish, getaway treat.
By Ingrid Hale