In the spotlight today is the G-Cube. It is no secret that marine pollution is one of the largest global concerns today, due to its widespread ecological, economic and social consequences. There is rarely good news associated with this expanding problem, yet there are people around the world working tirelessly against it.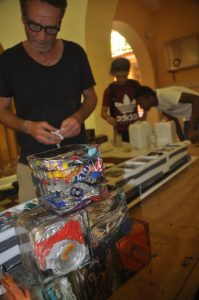 Swiss artist and president of G-Cubes Harald Reichenbach, like many of us before, felt deeply moved by the garbage-strewn oceans he encountered on voyages. Consulting experts in their fields of knowledge and using his artistic background, a committed team of individuals was put together and he set off to sail around the world, collecting ocean trash and turning the waste into purchasable art.
The trash, once compressed and set in resin, forms a neat cube and is catalogued by the region in which the trash was found with an engraved plaque. Over the two years of sailing they will produce and sell 150 cubes, with 1000 being sent back to Switzerland for a final exhibition.
The team arrived in Cape Town on the 10th of December and were based in the V&A Waterfront, working with a local school, media and art galleries.
The idea behind the G-cube is to add value to something considered useless. The waste pays for its own disposal, and promotes a cyclic mentality, which is the shift our world needs. As a society, we need to start seeing trash as a useful resource, whether in art, building materials or energy.
We caught up with Harry while he and his team were in Cape Town for a better understanding of the project and its future.
What is your sailing route, and is this your first offshore voyage? 
We departed September 2017 from Marseille in the Meditterannean, then we went along the Spanish coast to Las Palmas de Gran Canaria, then the Atlantic, the Caribbean, and the Panama channel through to the Galapagos. From there we went to the South Pacific to the Marquesas Islands to Hiva Oa, followed by a crossing to Tahiti, Bora Bora, Tonga, Vanuatu, the last archipelago before Australia. From the east coast we sailed up north to Darwin, followed by a crossing to Lombok, Indonesia, and then further to Thailand, Sri Lanka, South India, Goa and Mumbai and Muscat in Oman, where I ran a course as  needed to wait for the right weather. We then started towards the Maldives, Mauritius, Reunion, Richards Bay, followed by Cape Town. This is not my first offshore voyage, I did one across the Atlantic from Spain.
What brings you to Cape Town specifically? 
It wasn't in the original plan that we visit Cape Town, because I wanted to go from Marseille back to Marseille via the Red Sea, as its a short cut. But this is dangerous because of pirates, so we decided to go south rather. The goal is to sail to New York afterwards to deliver a book created by G-Cube, which will be after June 2020.
Where have you visited that shocked you the most in terms of ocean waste? 
The most shocking thing is that there is no place I have seen without ocean trash. Of course there are places with more or less, but the most shocking thing was really that after about 25000 nautical miles, I realised that even on the smallest remote islands you find plastic that has been washed on shore. I didn't see one island without trash. When we did clean-ups, in under one hour we would always have at least two bags of about 30L. Especially noteworthy is the the Sun Blas Islands – the people live in a way that doesn't create trash, however the outside of the archipelago is devastatingly trashed due to the big cities in Colombia. In some places you can't see the sand anymore, but its almost impossible to clean as a lot of it is microplastic already.
The Maldives, Male, is pretty bad too. There are 1 million tourists every year, and they contribute hugely to the plastic problem. There is an artificial island made of trash off the mainland as well. There is nearly no separation on the island, and they just burn it.
The G-Cube is an interesting concept – what did you want to achieve with it when this journey began, and has that changed at all with new-found experiences and knowledge?
Being an artist, I wanted to raise awareness around the global plastic pollution problem in the oceans, and because I was so shocked by the amount of trash on my first trip. I wanted to create a monument for this situation in 2020, building a big 1mx1m cube made up of 1000 small cubes, and of course the clean ups were a focus. We started working with schools in the beginning and I realised that this whole project is much more important than the art piece itself. What changed in the project was the main pillar, which is now really education, whereas before it was more about the creation of the cubes, which I intended to do myself. All 1000 of the cubes will be made by school children, involving them in creating this monument that speaks not only to them in terms of their education but to our generation, showing the mess we have made. The second big change in the project was when I realised that there is an immense demand for the compressing machines, especially on small islands as they don't really have a waste solution; as I mentioned before they just burn it. We are now working on an eco-brick project to help these small communities take this problem into their own hands by supplying them with compressing machines. This is a great solution, as the machines are easy to repair, they don't require electricity and its unlike another waste management systems as it doesn't require any transportation of the trash, the locals can do it themselves. Small islands are the only natural filtration system of ocean trash, but they are forgotten because of their remoteness.
Art is a big part of your life, and it is incredible that you have incorporated a global issue into this. Is this your first project that focusses on environmental educational/awareness/protest?
G-Cube is the first environmental art piece I have worked on. I feel that art generally is going a way that I don't like very much. It's not as much about the work itself, but rather the name is important, and the amount of money is important. Art is more or less transporting investment, white-washing money and this distance from the art is getting bigger. I think the narrative is gone, the discussion, and I want to bring this back. After my first political statement piece nearly 10 years ago, I decided I wanted to bring art back into society by painting, and I've been working like this since.
Do you have a plan or vision for after the final exhibition?
The end cube exhibition will be touring, to bring the G-cube back to the places we visited around the world again. I want the kids to see it, because they created it. It is important to bring this message back into the big cities, and sensitise people to these problems through art. The second goal is more of a dream at the moment, but it is to create a book where all the kids and students who worked with me can write and make testimonies et about G-Cubes and in general their view and opinion on plastic waste – ultimately to give them a platform. I would like to bring this book to the United Nations, and I hope it will make it to the UN library. Another vision of mine is helping provide small islands with the tools and knowledge they need to manage waste; we are trying to organise mentors who will support an island financially and guide them. On the islands, using the G-Cube as a brick.
What has been the biggest lesson for you, personal or not, on this journey?
It's quite difficult to say. A very important one is that the situation for future generations is tricky. There are organisations out there helping, but not enough. It is a case of changing not necessarily children's mindsets, but the parents. Culturally in these more remote places, the concept of packaging was banana leaves or woven items made from organic materials, and so the mentality is to just throw it away, in the ocean or wherever is convenient. Now, we have given them plastic without the education.
It is beautiful working with the kids. It can be tiring, educating, seeing, feeling hopeless. But anytime when I had a project at the school, the kids charged my batteries. All around the world, its different colours of human beings, different mindsets and cultures, but all in all children are free in spirit. We as people feel the same, we have the problems, and we need to work together to fight this global human issue.