Why fly into a city when you can float into Venezia? Like Venice, which lures 25 million tourists to its fragile shores every year. There's simply no better way to arrive.
Words by Allison Foat
With an endless network of waterways in Europe, recreational boating is an increasingly popular way to holiday, and skippering yourself down the River Sile into Venice is a classic experience. Being able to 'self-drive' means you own your time, stopping spontaneously to explore small towns along the way, whenever and wherever the mood dictates. With only 120km to cover in 48 hours from the boat base to the Santelena Marina in the Venetian lagoon where we docked, the pace is perfectly slow and the summer days are spent feasting on local fare and sipping chilled Prosecco on the sundeck as the boat cuts its way quietly through olive green waters on its way to the floating city.
Once in the lagoon, though, the calm atmosphere disappears and there is traffic, lots of it, and a choppier swell caused by water buses (vaporetto), taxis (motoscafi), ferries and gondolas. It's initially a little intimidating negotiating the aqua lanes but with a focused captain at the wheel and the boat base manager only a phone call away, even the most novice boater will get through safely.
There are three main island attractions to see before you get into Venice proper: Torcello, a nature reserve and the most deserted and peaceful of the trio; Murano, famous for its glassware; and, in the middle of the two, pretty Burano, and what I call the Bokaap of the Adriatic. Famous not only for its kaleidoscopic facades, Leaning Bell Tower and lacemaking industry, it has the reputation of being the happiest island in Italy. Venice itself is an archipelago of more than 100 tiny islands, interconnected via 150 canals that are in turn spanned by 400 bridges, four of which cross the Grand Canal.
Nothing quite prepares you for the grandeur, romance and antiquated glory of Venice. One minute you're enjoying an Aperol Spritz with the well heeled at Caffé Florian on the Piazza San Marco, and the next you're dodging low-flying pigeons down dingy narrow lanes and stopping for an espresso and cicchetti (snacks) at an authentic hole-in-the-wall osteria (deli-type bar) and rubbing shoulders with locals. The contradictions are wonderful.
The must-see list in Venice includes the Grand Canal, Rialto Bridge and Market, Aman Hotel, the Basilica San Marco, Galleria Dell Academia (complete with a selection of Da Vinci's drawings), the Ponte Dei Sospiri (Bridge of Sighs), and the Riva degli Schiavoni (Waterfront), among others. Grab a gelato and walk the city flat and even when a Venetian gives you directions you may as well prepare to get lost – it's inevitable and part of the fun and you'll likely discover secret squares (campi) and other hidden gems along the way. If you feel like doing something unusual, book a cooking class with Enrica Rocca – she makes a day of it as she walks you through the Rialto Market and does a meander through the back streets of the city before arriving in her kitchen to make Italian foodie magic.
La Biennale di Venezia is heaven for art lovers. If you can sync a visit to Venice with a Biennale year, you'll have scored an optimum experience that will satisfy on every level. As you sail away and head back towards Casale sul Sile and the Basilica San Marco fades away in the soft evening light, you're left pinching yourself, amazed that you were really there. As the poet Joseph Brodsky once said, 'Venice is part damp oxygen, part coffee and prayers.' It is exactly that and so much more, and it's always a good idea.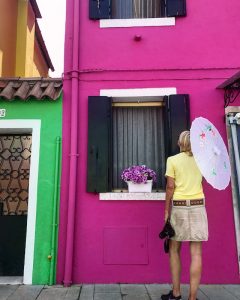 GETTING THERE
Le Boat Venice: leboat.co.za
Getting to and from Casale by train: Rail
Europe SA via worldtravel.co.za or call 011 628 2319
MUST-DOS
La Biennale di Venezia programme: labiennale.org/en
Visit Murano and Burano Islands
Lace demonstrations: getyourguide.com
BREAKFAST OR BRUNCH
Pop into Café Farini near the Rialto Bridge for a cappuccino and cannoli,
those irresistible tubular-shaped pastries that ooze sauce made from ricotta,
vanilla and cinnamon. Remember, if you sit down to eat (as opposed to eating it
standing at the counter), everything will cost you more.
BEST MARKET
The Rialto Market, which straddles the Grand Canal, is the oldest in Venice.
Built circa 1181.
LIGHT LUNCH
All'Arco is a popular Venetian bàcaro (small establishment that serve drinks
and nibbles called cicchetti), where locals gather to socialise.
Tel: +39 041 520 5666
ENOTECA
Cantina Arnaldi is a stylish enoteca (wine bar) in Santa Croce. They source superb
wines (including biodynamic, sulphate-free options), mostly from
Veneto and Italy and a great selection of bollicine (bubbles) like prosecco.
DINNER AT THE TINIEST RESTAURANT EVER
CoVino is a diminutive contemporary eatery and wine bar in a narrow calle
(lane) in the heart of Venice. The restaurant has become a magnet for
locals and discerning tourists, so booking ahead is essential as it only has six tables.
Tel: +39 041 2412705
LATE-NIGHT JAZZ
For late-night drinks, cool jazz bands and DJ sets, head to the B Bar Lounge at the
gorgeous Hotel Bauer.
WHAT NOT TO DO
Venetians have become rather tourist-phobic and have successfully
petitioned against behemoth cruise liners coming too close to the lagoon. Be
sensitive to the fact that you're a visitor and respect the locals at all times.