Fashion and beauty editor Helen Clemson went sailing on Turkey's Turquoise Coast armed with some of her best ever holiday skin savers.
Bang in the middle of our winter I got to leave a (thankfully) rain sodden Cape Town and fly off to Gocek in Turkey, en route to a week's sailing on the Turquoise Coast (Southwest Turkey in the Eastern Mediterranean).  Invited by ScicSailing, the experience is an elegant and genuine Turkish gulet holiday, a really super sailing trip and a Zen-lover's dream – it's utterly relaxing on board. However, for those wanting more than just a tan and a few good books ticked off their reading list, the itinerary is ideal for travelers chasing history-rich adventures. This season's route (weather dependent) includes hiking Gemiler Island amidst the remains of several ancient churches. The island is also believed by archaeologists to be the location of the original tomb of Saint Nicholas (Father Christmas). We also had the privilege of being guided through Kapakli for a local family breakfast at Siir ev Kekova. One of the most authentic and connecting eating experiences I've ever had while traveling, we ate our way through freshly made – and incredibly delicious – breads, cheeses, salads, honey, olives and so much more. Do ask about this wonderful community experience. But perhaps the most visually arresting excursion  – this being a yacht trip and all – is a visit to the sunken city at Kekova, in a sheltered bay. The waters are so pristine, you can clearly see the ruins just below the waters of  this breath-taking cove, that you can only view in a boat, dinghy or sea kayak. While that may sound like a lot on the to-do list, there's plenty of respite to be had. That and knock-out food! I completely overindulged. However since it's all authentic Turkish fare (you ain't going to be offered a burger and chips on this trip),  beautifully prepared seafood, tasty vegetable dishes like garlicky tomatoes, grilled aubergine and red peppers infused with the region's famous olive oil mean you won't feel horribly rotund. Plus all that olive oil is really good for your skin!
Skincare for Sailing
I must admit that my husband and I were traveling together on this trip. This meant I needed to take into consideration shared bathroom space in our cabin as well as a shared suitcase – much easier to stow away while on-board (this wasn't our first rodeo). So, I chose a collection of beauty and grooming skincare products that we could share and that could perform multipurpose functions – like a high factor SPF day cream. I also didn't take a separate make up bag. I just packed one palette with everything in it bar foundation and mascara. This is one of the best tips I can give you. But more about make up later. For sailing holidays, pack travel sized products where possible (obviously) or decant what you can into small containers. And then, simply go multi-purpose and share your stuff with your plus one if you're traveling together. I also never pack shaving cream for legs when traveling – I just use hair conditioner or wet wipes. They do the trick!
Wash and Go!
You can't skip a face cleanse – and if you do, rather don't tell me. Facial wipes are ok for plane trips, but you need a proper rinse off cleanser once you've hit your destination. No matter how tight your packing space, a face wash has to go in your bag. Without it, your skin stays dirty and keeps building up layers of dirt, oil, and debris (lovely) and you can smooth on as much moisturiser as you wish, but it's not going to absorb properly. So, make room for that cleanser and use it! In the mornings after washing your face, if you don't have a dehydrated skin, simply layer on a high factor anti-aging facial SPF cream before you hit the sun. Remember to do the same for your body – I always use a separate sunscreen for face and body as I feel the formulas are wired differently – 20 to 30 minutes before making your appearance on deck.
From left to right: Eucerin Sun Fluid Anti-Age Face SPF50 (R235, call 0860 102 091 for stockists), Nivea Sun Protect & Refresh Refreshing Sun Spray (R140 for the SPF30, call 0860 102 091 for stockists) and Clarins Pure Melt Cleansing Gel with Marula Oil (R415, visit https://www.clarins.co.za)
Day and Night
As much as I'm hooked on serums, masks and the like, I leave them at home when traveling – and especially when sailing. Also, even though I'm a beauty editor, a girl tends to forget it's time to apply her deeply hydrating anti-wrinkle anti-pigmentation youth boosting mask when the sunset view from the bow is so incredibly mind blowing. As long as you have a great quality day and night cream (and the Turkish summer sizzles I'd suggest a day moisturiser with added SPF for UV protection), your skin will survive. By great quality, I mean the active ingredients in the product formulations need to be carefully researched. On this trip I knew I was going to be experiencing a lot of sun and as my skin is prone to pigmenting (dark spots and patchiness) as well as the fact that I'm looking 40 smack bang in the face, I looked for a very hydrating day cream with powerful anti-aging ingredients and advanced sunscreen technology. And I didn't stop there. I still applied a stand-alone sunscreen on top, and before going to sleep I used a cream to yet again boost hydration as well as radiance. Thirsty skin means old-looking skin, and no one – man or woman – wants that!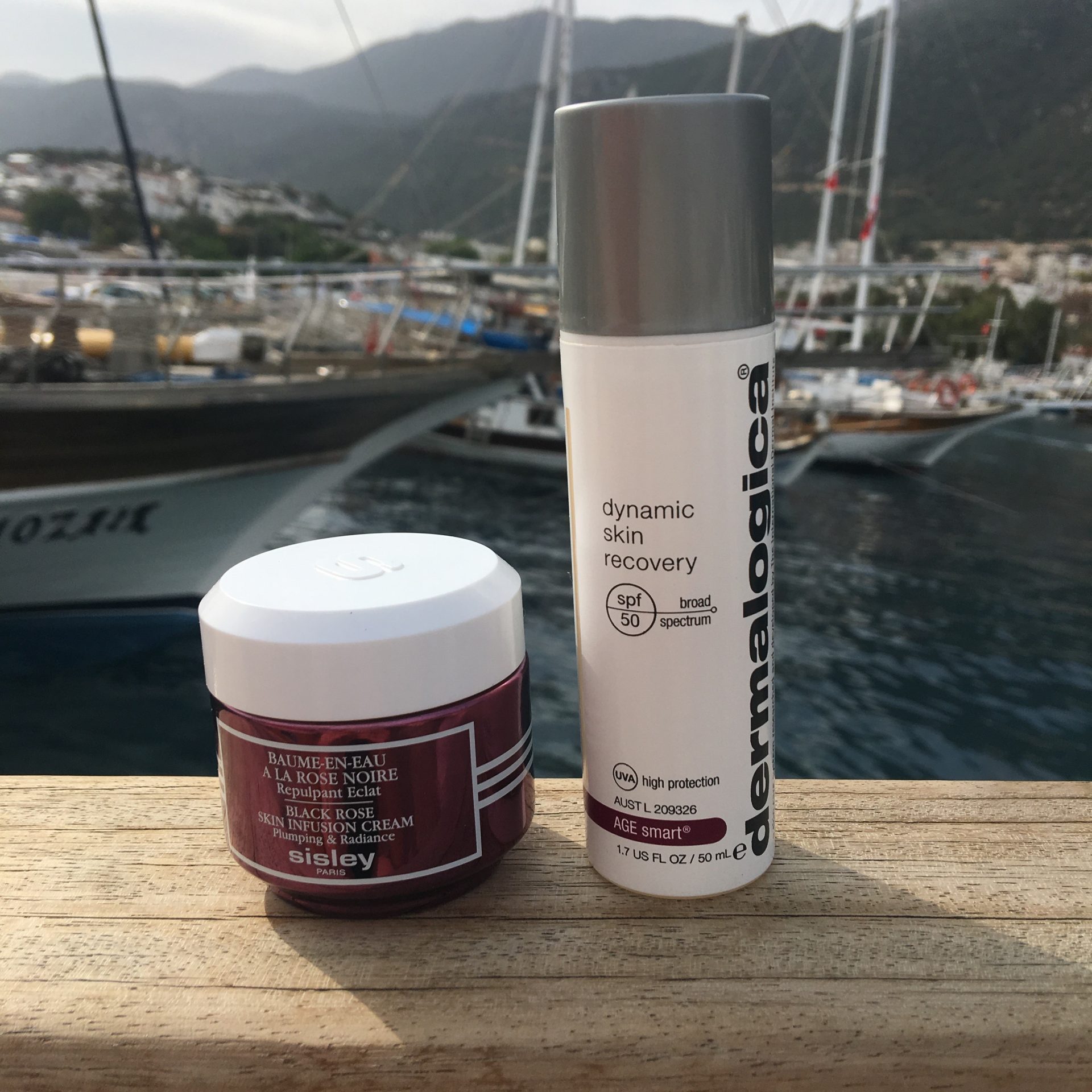 From left to right: Sisley Black Rose Skin Infusion Cream (R 2, 545, selected Edgars stores) and Dermalogica Dynamic Skin Recovery SPF 50 (R 1, 199, visit http://www.dermalogica.co.za).
The Power of a Palette
When I found this rather glam make up palette, I felt rather pleased with myself. Firstly no, there's no need to actually wear makeup when sailing I get it, but there were a few balmy evenings spent docked in harbour and I wanted to stroll through the charming little villages looking like I'd made an effort. Also travel-wise, a hard-topped palette is much easier to pack as it protects make up better than a soft bag – plus you have a built in mirror! So, all one needs to add is mascara and a foundation, and voila! However, I suggest a tinted moisturiser with an SPF instead. This means you can use it as a stand-alone product during the day or under make up in the evenings. In other words, a multi-purpose space saver! I like Dermalogica's Sheer Tint Light SPF 20 (R735, visit http://www.dermalogica.co.za) that comes in medium and dark shades too. It's easy to blend and even makes fine lines look less noticeable. Mascara-wise, Sensai's legendary mascara is back mid-July and seriously better than ever. Never smudging, Lash Volumiser 36ºC (R685, selected Edgars and Dis-Chem stores) is oil and waterproof and holds on the lashes for an impressive amount of time.
Dolce & Gabbana Beauty Voyage Make-Up Palette (R 2, 405, selected Edgars stores)
Itchy feet? There are still a few months left of this year's season to sail. In fact, September is one of the best months to do so, post the busy European summer holidays and still a time when our SA weather isn't exactly warm. Check out https://scicsailing.eu for all the details or email info@scicsailing.eu And, just remember my best fashion find for swimwear days (whether yachting or not), a kaftan by local label Gypsy Soul at Boho Boutique – I'm wearing their white and turquoise Santorini kaftan (R620, visit www.BohoBoutique.co.za ) above. It was a winner over a bikini (hid the wobbly bits I didn't want my fellow sailors to see) and helped protect my shoulders and upper arms from the sun. Plus it's rather fabulous to look at. Happy sailing!
Images by Eulanda Shead Osagiede / @dipyourtoesin (portrait) and Helen Clemson.