A family cruising holiday had always been on my wish list. We hadn't yet enjoyed such a holiday with our two daughters, aged 16 and 19, and we wanted to do so before they headed off on their own adventures.
I wouldn't say Turkey was first on our list of possible destinations, but the South African school holidays fell within the manic tourist season in Greece, and many people said Turkey was not only beautiful, it was also much friendlier to our SA rand.
Rounding up friends to join us wasn't a problem. After all, who'd say no to a chance to escape the miserable Cape Town winter? We invited good friends with whom we'd shared many holidays, and our teenage children get on well with young adults of our friends' age. These friends were non-sailors who'd never been on a cruising holiday, but they're adventurous and keen to try new things.
When looking for a boat, The Moorings seemed the logical port of call. The South Africa office is based in Cape Town, and they offer a full service in boat selection and itinerary planning. Quotes and rates are now based on a low, fixed dollar rate in ZAR, so when splitting the cost between two families or four couples, it's actually quite reasonable. Just consider what a hotel room can cost a family of four for a week, and a boat offers you the added value of giving you freedom of movement in paradise.
A wonderful selection of beautiful boats, ranging from mono-hulls to catamarans, is on offer. We decided on a cat, as we liked the idea of the generous space. The beautiful new Leopard 48 has always been a favourite of mine. But what I look for in a boat − big outdoor living area, large outside saloon area, spacious galley, generous cabin space and luxury en-suite heads − and what a seasoned and experienced sailor looks for − speed, boat handling, ease of maneuverability, a well-functioning generator system, sail-handling systems, GPS plotters or Navionics, and so on − are quite different.

My husband, Hylton, did a lot of work on navigation and plotting a course before we left South Africa, and he downloaded the Navionics charts onto his iPad. However, 3G cards are readily available and inexpensive over there, for all your out-of-port data requirements. We also hired SUPs and kayaks from The Moorings, which came in handy for exploring all the little bays.
The Moorings' base in Fethiye is an hour's drive from Dalaman Airport in southwest Turkey and airport transfers are easy to arrange. At The Moorings' base, at the Classic Hotel Marina, charter guests are permitted to use the wonderful hotel facilities, including swimming pools, a spa and restaurants. The Moorings team gave us a thorough technical briefing. After
finalising the paperwork, we also had a general briefing on sailing in the area. We'd plotted a route beforehand, but the base manager, Deniz, also shared some great insider tips.
The Moorings offers a full provisioning service, but we didn't make use of this as we like to wander the local markets and buy our own stock. There's a full-service marina complex nearby, offering all sorts of services and including a supermarket, but some smaller shops on the main road will also deliver the items you select to the boat. We decided to support the locals and use one of these shops. We found the Turkish people to be friendly and accommodating, although English is generally
quite limited.
Our friends arrived the next day, after a long five-hour bus ride from Bodrum. We loaded them onto the boat and dashed off to Kapi Creek to make the sunset. It was a beautiful trip across the bay in warm Mediterranean winds, passing the many gulet boats coming back to base. We set up the tender and took a stern line to a rock. It was easy to moor the boat with the electric windless and we dropped anchor in 25m of water after seeing depths of up to 70m. Having to use a stern line either
tied to a rock outcrop or a set mooring ring takes getting used to, but it does help keep the boat stable. After a few times mooring this way, we became good at it and each of us had our job to do when anchoring.
We enjoyed our first of many warm evenings under a pitch-black sky, and woke to an idyllic bay of clear waters in which turtles joined us for an early morning swim. A lovely old couple on a boat selling freshly made pancakes and pots of honey also came by.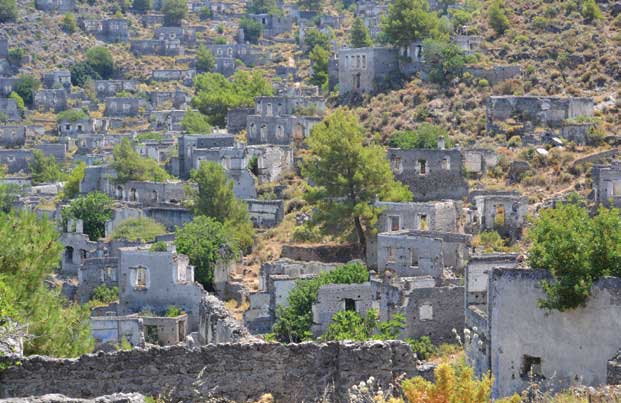 We headed off to Ekincik Bay, a long stretch of motorin
g for 28 miles. The swell was big, but we used the sails to stabilise the boat. Motor sailing works well in preventing the rocking motion. At Ekincik Bay, we moored at a jetty stern-in, and received great guidance from the locals on their tenders. But the marina was busy and we were rafted up alongside boats on all sides. Ekincik offers clean fresh water, neat moorings, wooden paths, WCs, restaurants and good recycling facilities, which we appreciated as recycling is important to us. We separated our recyclables by setting up another bag for organic waste in the galley. We ate at the hilltop restaurant that evening and enjoyed the most unbelievable views and seafood, but it was pricey.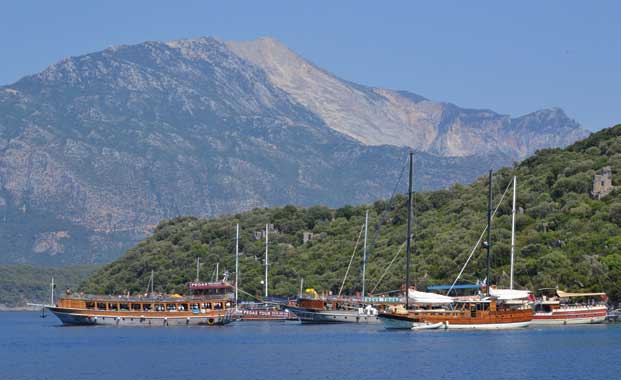 I made the most of the calm morning the following day and went for a lovely paddle in the clear waters of the bay. Ekincik Bay is close to a turtle breeding area and turtle tours are on offer, but July isn't breeding season. We could've visited the Dalyan Rock Tombs close to the turtle sanctuary, but we wanted to hit "the road". We decided to sail to the furthest point of the area first and make our way back to Fethiye after two weeks. We started with a
fairly long haul of 14 miles to Marmaris, to stock up on supplies, where we moored off the main beaches and pier and ran the tender into town. Mooring in the main marina was too costly, and The Grand Bazaar is practical and wraps around a full city block and we found a well-stocked supermarket which delivered our groceries to the quayside in a flatbed tuk-tuk.
When it comes to being helpful, the Turks can't do enough for you. After the noisy market, we needed some quiet, so we found a beautiful mooring in a bay on the other side of an island off Marmaris, called Kuecuekkargi. There we took in a beautiful pink sunset, listening to classic tunes and enjoying a "Cin" and Tonic as our girls sang along to the guitar. Priceless!
The next day, we headed back to the SE side of Turkey with a 5am start in order to cover 42 miles. We moored in another beautiful bay: Küküka Koyu Bay was secluded with a few rocky beaches, and donkeys visited us on the beach. There were intriguing little caves everywhere to explore and high cliffs for cliff jumping, so great fun was had by all.
Boynuzbuku Koyu Bay, our next stop, offered a charming little jetty, waterside restaurant and facilities with a games room for kids. Colourful fabric hammocks hung from big shady trees, and a stunning Turkish daybed was set up for sipping Turkish tea. The beach bar is manned by the owner, who speaks good English. He cooked a delicious seafood and meze lunch for us, which was served under a huge old oak tree at the water's edge. We washed this down with ice-cold shandies,
feeling very happy with life.
We upped anchor and headed for Tomb Bay, named for the many tombs cut into the rocks above. It's a popular spot (we counted 33 boats on anchor that night), so we left there and found a quieter mooring around the corner. We learnt that if you're moving off to another spot in the late afternoon, you need to be in the next mooring by
5pm in order to get a good spot. And in order to get the good spots for the day, arrive by 10.30am, especially on the weekends, when all the gulets are out doing their day charters. We also became aware of where we should moor so as not to be on the sunrise side of the mountains – it gets very hot in the mornings.
The next morning we were greeted by a few boat traders selling breads, pastries, jewellery and sarongs. An early morning breakfast was followed by a climb up to the tombs for beautiful views of the bay.
Next stop: Göcek to restock on supplies and enjoy a little culture in the picturesque town. Apparently, there are more boats in Göcek than houses. The three marinas are pricey and charge in euros. For instance, Scopea Marina charges €100 per night and the other two marinas are more expensive than that. The municipal marina wouldn't accept catamarans, so we anchored outside the main marina and went into town to roam the stores and look at the restaurants. I bought a Turkish
lantern and beautiful linen and scarves. There's a wonderful but pricey deli that stocks Western food-and-drink brands, which definitely caters for the larger power yachts and charter boats as the prices are high − R440 for a bottle of Spiced Gold and R88 for a block of Lindt Dark Chocolate.
We upped anchor again, this time as rain loomed on the horizon, but it only threatened and never poured. The weather in general is moderate, starting with beautiful mornings, followed by a light haze until 12pm, and, after hot and clear
days, stunning evenings. Cicada beetles start up every morning and hum the whole day; wasps and bees are quite common in the evenings − and so, too, are mosquitos.
The next morning, we headed towards Ölüdeniz and found a beautiful quiet bay opposite the main beach. Apart from some
inquisitive turtles that came to greet us in the bluest water we'd yet seen, we had the place to ourselves. But within 15 minutes, we were surrounded by gulets mooring for the day.
Still, all the action, with boats coming and going and people paddling and swimming in and out of the natural lagoon, was fun. We affectionately called it "Plett in December", it's that busy − people cover every inch of beach and sand. The turtles swim up and down the lagoon among the swimmers, seemingly comfortable in the presence of people.
The sky was filled with paragliders free-falling and spiralling down in every direction. We just had to join! We booked with a guy called Yusaf on the beach. He came out on a speedboat to our boat to do the negotiation with us, at a discounted rate of €70 per person; the sam
e price at home for a much shorter jump off Signal Hill. But they really make their money off selling you the GoPro footage they take of your flight, as you can't take your own cameras. It's a 35-minute drive up the mountain through a thick cedar tree forest and a 30 -minute flight down – a 1 700m-high jump, higher than Table Mountain, with spectacular views of the "real" Blue Lagoon, all of the Fethiye Gulf and Ölüdeniz.
The whole town is a bit of a tourist trap with trinket shops, restaurants everywhere and even strobe lights lighting up the mountain at night, but it's vibey and, generally, the people are friendly and helpful. We decided to spend another night on anchor.
After the many day trippers had left, we enjoyed a quiet drink and evening swim watching the spectacular sunset
pinks and purples of the mountain we'd jumped off that day. Swimming with turtles is always a special experience and Megs, our youngest, was determined to have a close encounter with one, which she did that night.
We were sad to leave Ölüdeniz, but at Cold Water Bay, we found a private little inlet, with the bluest water we'd seen to date. The bay gets its name from the cold water that pours in from an underground spring, causing the temperature to drop from an average 26 degrees to about 16 degrees, as it gathers in a little inlet and a rock pool. The story goes that for every five minutes you spend in the cold water, you'll look five years younger. The bay is surrounded by high mountains and at the top of one is a mountain-top village and Kaya-Köy/"Ghost Town" set in a National Park. The Greeks established this village over 300 years ago. When the Turks invaded, the Greeks fled but the Turks, being farmers who preferred the flat plains,
abandoned the village. You can feel the kind of world it may have once been with beautiful stone houses with decorated chimneys and narrow cobbled streets echoing the sound of laughing children.
The old Greek Orthodox Church still stands, but it's under renovation, so we couldn't go inside. Only one intact house, 400 years old, still stands with its thick, decorated wooden  doors, which would have welcomed you inside a small, neat home. It costs 5 Turkish Lira (about R25) per person to enter the park, but take extra money with you as there are a few stalls selling trinkets and the most beautiful jewellery.
We enjoyed a good tapas lunch at Muzzy's Place, where there was a welcoming bright-blue pool to cool off in. After a good break from the heat, we walked back up the hill to the lookout tower and down to Cold Water Bay. The path winds through forests and leads you down to a stony beach. We were rewarded with the most incredible views ever – tree-lined mountains
and turquoise waters as far as we could see.
Then, at least four-day-tripper gulets, complete with water slides and loudspeakers, arrived with tourists of every shape and size. Around 3pm seems to be the time that they arrive, so make sure you dodge the rush hour!
We upped anchor and left this beautiful area, so far our favourite, and passed the island of Gemiler Ad, topped by ancient ruins, along the way.
For our second-last night, we anchored in the bay next to Kapi Creek to be close to Fethiye in order to be back at the marina for our last night. We spent the evening in enthusiastic song and enjoyed a midnight swim while staring up at the blanket of stars − truly memorable.
Sailing back into the Fethiye Gulf, we passed more little inlets and nooks and crannies that offered more beautiful moorings. You could spend a good month here and probably not even see everything.
The Fethiye and Göcek Gulfs are beautiful, like big valleys with many little islands and outcrops everywhere, and tree-lined mountains as far as you can see. One of my best memories was sailing in the Fethiye Gulf to the sounds of Jack Johnson in 18 knots of warm wind. We managed to get close to 10 knots boat speed, not bad for a heavy catamaran, and we even heard
a hum of excitement from her.
We enjoyed one last swim in a little bay close to the marina, which gave us a chance to sort out the boat and ensure that the mooring lines and fenders were ready for mooring. The marina guys are helpful. They come out to assist you when you come onto the mooring, making sure the anchor slings are set up on the bow correctly, which is how all boats are moored in
the marina − anchor first and then go astern towards the jetty. We had a boat check-out and handover with Deniz, who was most impressed that we actually sailed the boat as not many people even hoist the sails. The boat had been such a wonderful home to us, as it was comfortable and easily maneuverable.
The youngsters slept on the trampoline for the second time on that last night. They really embraced the experiences that the trip offered: early morning swims, exploring caves, snorkelling, swimming with turtles, cliff-jumping, paragliding, hiking, midnight swims. Our children were so at ease in the environment and adapted to boat life well – keeping
a neat ship, cleaning up after themselves, cooking in a small galley, being aware of water usage and power maintenance, and helping with mooring and casting off.
We set up a system of two people on duty per day. Duties included cooking, cleaning and prep so that each person could have three days off before their next shift. We mixed up families and adults and teens, which worked well and even provided some healthy competition between the teams!
It was the most incredible family bonding time. We saw our children as young adults and watched them come out of their
shells. They were patient, inquisitive, adventurous, spontaneous, adaptable and hard-working.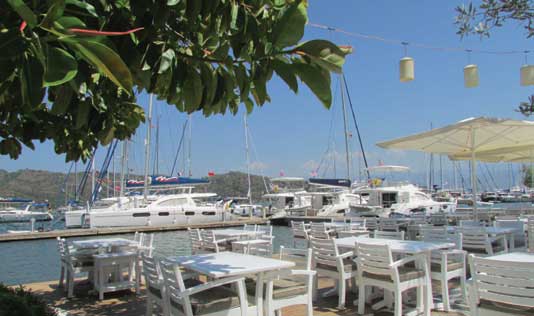 I so enjoyed the time with them as I knew that when we got home, we'd all get involved in our own lives again. They scatter off to their varsity or school, their friends and social lives, while we're busy with work and our hobbies. But I knew that I would cherish the memories of that special trip together forever.
First published in RCYC Sail.