S+L loves good news! And the Two Oceans Aquarium has provided us with good news by rehabilitating and releasing a variety of ocean wildlife successfully.
The most recent is their resident ocean sunfish Mola mola, which they called Holy Moly.  Mola mola was released in the ocean off Robben Island this week.
The sunfish was rescued by Aquarium staff in December, after it was discovered trapped in the nearby V&A Waterfront harbour. The harbour had been particularly busy during the summer, and this young sunfish likely became disorientated. It had been observed in the marina for a number of days and there was  concern that it was distressed and at risk of being injured by a boat.
Over the past month, the sunfish has been a resident of the Predator Exhibit, a gentle giant among the sharks and giant kob that it came to coexist with.
The ocean sunfish had recovered well since the rescue in December. After a month it was cleared of parasites and checked for dehydration and any other underlying ailments. An increase in the sunfish's appetite, and the energy and curiosity displayed while exploring the Predator Exhibit, determined it to be in good health for release.
Why should we care?
Ocean sunfish are listed as vulnerable to extinction by the IUCN – the same classification as polar bears, pandas and cheetahs. In South Africa alone, over 340 000 are killed as bycatch in a year, yet few people have even heard of them. For this reason, we are incredibly glad that Mola mola made such an impact on everyone who had the opportunity to see it at the Aquarium.  Swim safely our magnificent ocean ambassador!
Loggerhead turtles released:
Another big moment was the release of Yoshi the loggerhead turtle back into the ocean in December 2017. Yoshi was the size of a dinner plate when she first arrived via a fishing boat in 1997. Given Yoshi's age, her excellent health, and her display of certain behaviours, it was decided that it was time for her to be released back into the ocean. Weighing 183kg, Yoshi was released 27 nautical miles south west of Hout Bay in 20.6°C water.
Yoshi was fitted with a satellite tag and her movements can be tracked here: Follow Yoshi
Although Yoshi no doubt stole the show of the release day, the Two Oceans Aquarium was extremely pleased to release back into the wild 27 loggerhead hatchlings that had been recovering in their rehab-and-release facility for various lengths of time since April 2017.
The rehabilitation of these wonderful little loggerhead ambassadors was made possible by 26 incredibly generous members of the public and organisations who sponsored their specialist care through our "Adopt a Turtle" programme.
Yoshi is not the first sea turtle to be released by the Aquarium. Each year the Two Oceans Aquarium rehabilitates and releases sea turtles that have been found stranded on Western Cape beaches. These turtles range in size from less than a kilogram to more than 80kg. In 2015, two hawksbill turtles, Otto and Winston, were rehabilitated at the Aquarium, released with satellite tags and tracked after their release.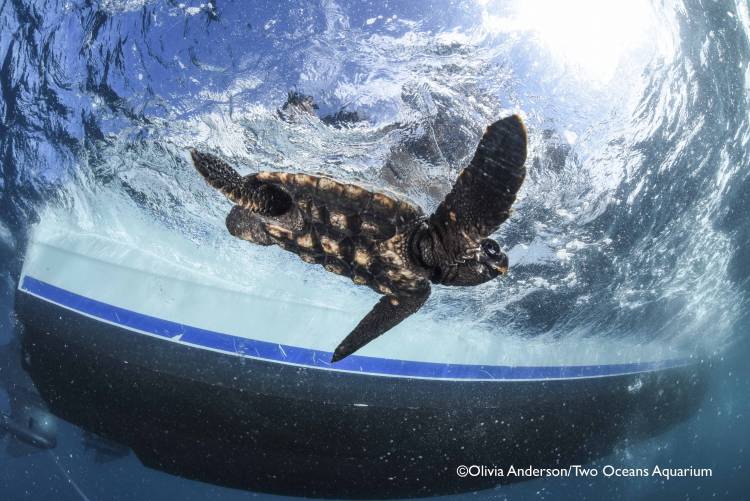 "Through tracking the hawksbill turtles Otto and Winston, post-release, we gained confidence in knowing that our rescue turtles can continue life successfully in their natural environment. Otto swam to Madagascar, Winston swam to Gabon – I cannot wait to see where Yoshi goes! She is ready to cross oceans. We will follow her every move as long as we get satellite transmission (hopefully for a few years), and yes, the NSRI is on standby should she need any assistance," said Maryke Musson, Two Oceans Aquarium Curator .
Did you know?
*There are seven sea turtle species worldwide. *Of the seven species loggerhead turtles have the most diverse distribution worldwide. *Loggerhead and leatherback sea turtles are the only two species of sea turtles that nest on the South African coast, more specifically the northern beaches of KwaZulu-Natal. *Female sea turtles use the magnetic fields of the earth to navigate back to their natal beaches. *Male sea turtles never leave the ocean and females only leave the ocean to lay their eggs. *Loggerhead turtles are incredibly smart swimmers and use ocean currents to travel vast distances between feeding grounds, but only actively swim for about two hours a day. *Only one of two sea turtle hatchlings survive to maturity. *Sea turtles face serious threats, which include being caught as by-catch by the fishing industry, plastic ingestion and ghost nets (discarded fishing gear that entangles a turtle, preventing it from surfacing for air and leading to the drowning of the animal.
Information supplied by the Two Oceans Aquarium. www.twooceansaquarium.co.za
Photographs: Olivia Anderson/Two Oceans Aquarium, Cleve Robertson, Renne Leeuwner, Kevin Spilby